As the days grow longer and the temperatures rise, it's time to infuse your home with a refreshing summer vibe. Whether you're looking to create a cool retreat from the heat or simply embrace the vibrant energy of the season, these simple tips will help you transform your living space into a summer oasis.
However, the beginning of summer can also be the perfect time to get started on more significant projects. Especially those that you've been putting off for a while. Regardless of whether that is clearing out the garage, or house rewiring it's a great time to get it done. 
Tips To Make Your Home Feel Summer Fresh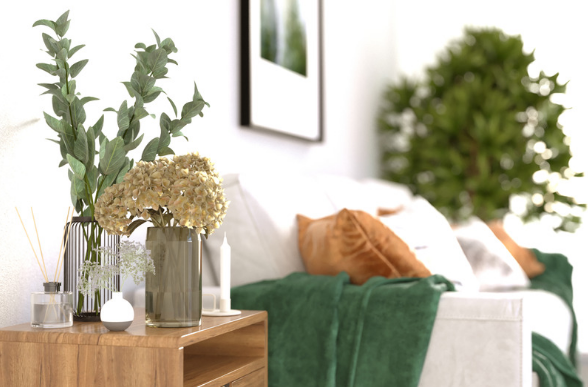 Here are four additional steps to make your home feel summer fresh.
Clean the Windows
Start by giving your windows a thorough cleaning. Summer is all about natural light and clear views, so ensuring that your windows are sparkling clean will instantly brighten up your space. Use a glass cleaner and a microfiber cloth to remove dirt, dust, and fingerprints. Consider opening your windows to let in a fresh breeze, bringing a sense of the outdoors into your home.
Re-arrange Your Furniture
One of the easiest ways to give your home a fresh look for summer is to re-arrange your furniture. Take advantage of the longer days and create an inviting layout that encourages conversation and relaxation. Consider placing your seating areas near windows or doors to capture the summer views and make the most of natural light. Experiment with different furniture arrangements until you find the perfect setup that maximizes both comfort and style.
Clean Out Your Closet
Summer is a great time to declutter and organize your wardrobe. Sort through your clothes, shoes, and accessories, and donate or sell items that you no longer wear or need. As you pack away your winter clothing, make room for lighter fabrics and vibrant colors that reflect the season. Organize your summer wardrobe by category or color to make it easier to find and put together outfits. A tidy and streamlined closet will make getting dressed in the morning a breeze.
Decorate with Plants
Bringing the outdoors inside is an excellent way to create a fresh and lively atmosphere in your home. Decorate your living space with potted plants and fresh flowers. Opt for low-maintenance plants such as succulents, cacti, or spider plants if you're new to gardening. Not only do plants add a pop of color and a touch of nature to your interior, but they also purify the air and create a sense of tranquility. Place them strategically in areas where they can thrive and be admired, such as windowsills, coffee tables, or shelves.
Conclusion:
By following these simple steps, you can easily transform your home into a summer haven. Clean windows allow natural light to flood in, re-arranged furniture creates an inviting and open space, a decluttered closet streamlines your morning routine, and the addition of plants brings life and freshness indoors. Embrace the summer season by infusing your home with a vibrant and rejuvenating ambiance that will leave you feeling energized and ready to enjoy the sunny days ahead.
Other posts you might enjoy:
How To Decorate Your Home for Each Season
Summer 2021 Top Trending Wallpaper For Home Décor
Share This Story, Choose Your Platform!