Design inspiration takes many forms and comes from many different sources.  Our contributor, Angie Zimmerman, took her love of floral arranging and brought a little nature inside for the holiday season.  Learn how to make a lush, holiday garland of your own by following her step-by-step tips.
My sister in law just had breast cancer surgery and cannot decorate her home herself because of restrictions surrounding the surgery. She said she'd like to have a fresh holiday garland for her mantle so she could at least have the scent of Christmas in her home. I went for a walk around my neighborhood and gathered the following elements: pine branches, red berries, rosemary, magnolia branches from my backyard, cedar and salal greenery.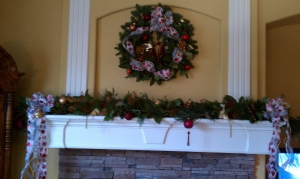 To make a garland by hand, you need to have a thin piece of rope or a thick piece of string, cut to about a foot longer than you want the garland to be.
Make a loop and a knot on both ends so it can be hung.
Gather a combination of all the ingredients in your hand with stems about 12 inches long.
You'll need to use paddle wire or spool wire for this, which can be purchased at a floral supply or craft store.
Start to wrap the wire around the bundled greens and the rope….make sure and secure the beginning of the wiring by knotting the wire. Pull the wire tight around the bundled greenery and rope.
Gather another cluster of the greenery mixture and lay behind the first bundle and again wrap tightly with the paddle wire….this will be one continuous piece of wire, no cutting until you get to the end.
You will repeat this process until you get to the end and then you want to make sure and secure the wire again by knotting or overlapping it somehow so it will not unravel.
Hang your garland. In this case, I laid the garland across her mantle and added a couple of bows to the ends with long tails.
Once the garland was in place, I also added some of her ornaments tucked into it.
It looks fabulous! And the scent is wonderful! If you have access to aged green hydrangeas you could add those into the mixture and would have a spectacular garland.
Everything will dry naturally, and if you were inclined, you could pack it carefully and reuse it the following year.
Angie Zimmerman, The Flower Diva, Flower Arranging 101, http://www.flowerarranging101.tv