As the warm weather approaches, we start to crave lighter, cooler meals that are perfect for hot summer days. It can be a challenge to come up with new and exciting recipes every day, so we've compiled a list of easy summertime recipes that you can enjoy all season long.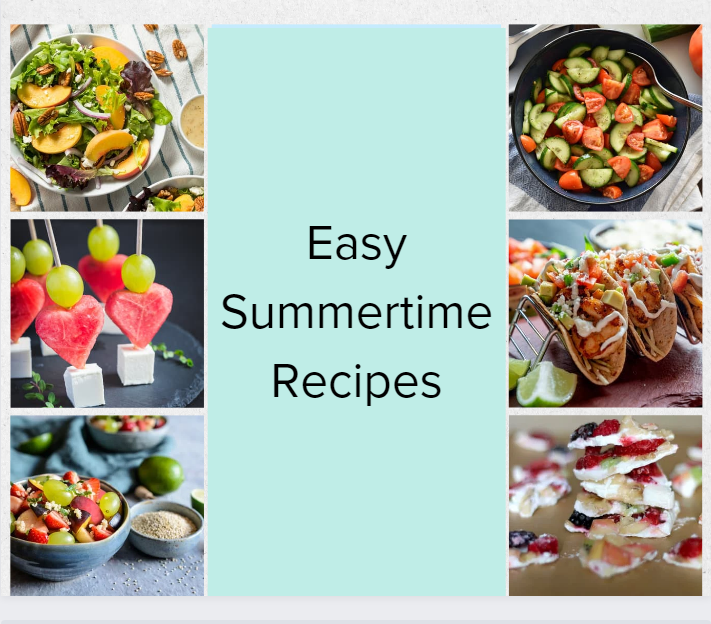 Grilled Peach Salad
Start with fresh, ripe peaches and grill them until slightly charred. Serve them on a bed of arugula with crumbled feta cheese, sliced red onion, and a balsamic vinaigrette. This salad is quick, easy, and bursting with flavor.
Cucumber and Tomato Salad
Slice 2 cucumbers and 2 ripe tomatoes, and mix them together in a bowl. Add chopped red onion, a few sprigs of fresh cilantro, and a squeeze of lime juice. This refreshing salad is perfect for a light lunch or as a side dish with grilled meats.
Watermelon and Feta Skewers
Cut watermelon into bite-sized cubes and thread them onto skewers with cubes of feta cheese. Drizzle with a bit of balsamic glaze and a sprinkle of fresh mint. This simple recipe is sure to impress your guests at your next outdoor gathering.
Grilled Shrimp Tacos
Brush fresh shrimp with olive oil and season with chili powder and salt. Grill until cooked through and assemble in warm tortillas with sliced avocado, chopped cilantro, and a squeeze of lime juice. These tacos are perfect for a quick and easy dinner that won't weigh you down.
Berry Salad with Honey-Lime Dressing
Combine fresh berries (such as strawberries, raspberries, and blueberries) with sliced almonds and crumbled goat cheese. Whisk together honey, lime juice, and a bit of olive oil to make a light and tangy dressing. This salad is a healthy and delicious way to satisfy your sweet tooth.
Frozen Yogurt Bark
Combine Greek yogurt with your favorite mix-ins, such as chopped nuts, dried fruit, or chocolate chips. Spread the mixture onto a sheet pan and freeze until solid. Break into pieces and enjoy as a healthy and refreshing dessert or snack.
In conclusion, summertime meals don't have to be complicated or heavy. These easy recipes are perfect for warm weather days when you want something light and refreshing. With a little creativity, you can enjoy a variety of delicious meals all season long.
Other posts you might enjoy:
Private: Summer Barbecue Recipes
Healthy Hot Dog Recipes for Memorial Day
Share This Story, Choose Your Platform!