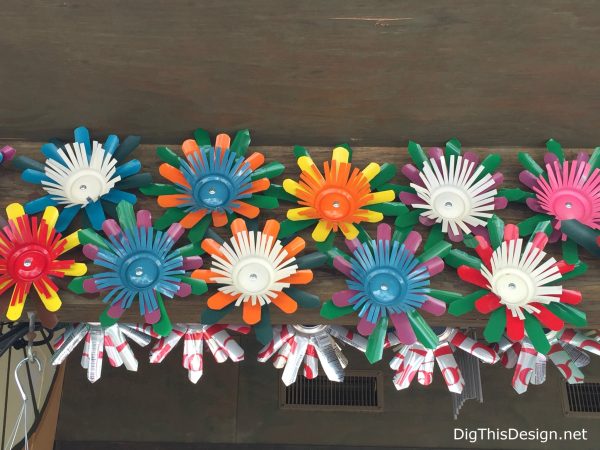 JUNK is ART, just ask Satchel, the owner of SATCHEL'S pizza and The LIGHTNIN' SALVAGE ENTERPRISES. My husband Lee and I found this unique pizza joint during a really challenging time in our life. Our oldest son Patrick was at Shands hospital in Gainesville, Florida and we were struggling to find out what was causing his illness. Weeks turned into months and to me Gainesville was not my favorite place to be. I think I associated the city with my son's illness. We spent every day standing watch over our son, and at 7 pm they would kick us out. We would always search for a place to have dinner and find a little comfort from the everyday stress at the hospital. One day someone told us about this pizza place called Satchel's so we decided to check it out.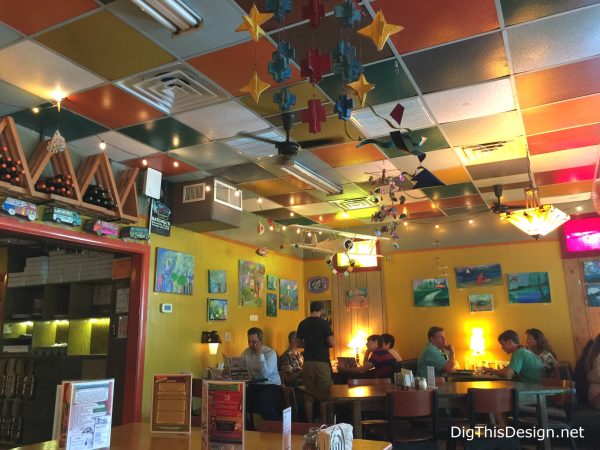 SATCHEL'S ended up being more than just a pizza joint! This little eclectic spot made us SMILE and took us back to our carefree childhood. Around every nook and cranny was a nostalgic piece of a memory long since forgotten.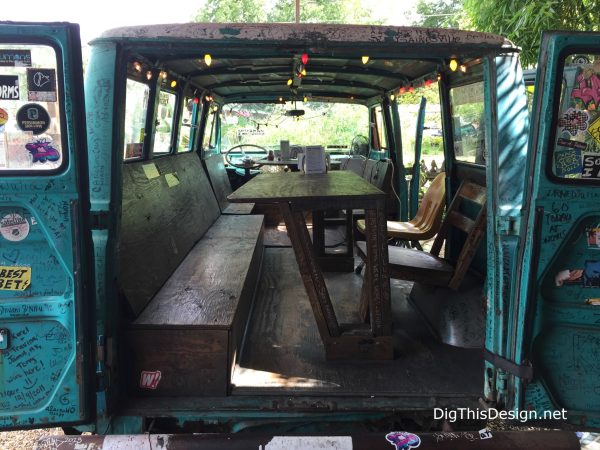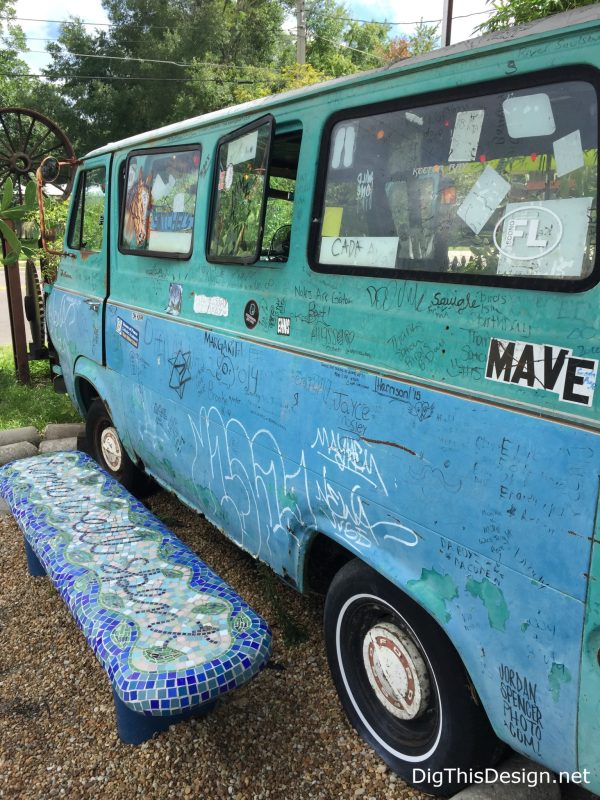 Just outside the front door is Satch's old 1965 Ford Falcon Van that's been turned into a dining table and a favorite with kids, as you might imagine. There is more outdoor seating and landscaping around pathways, where if you look closely you will find a gallery of junk turned into art.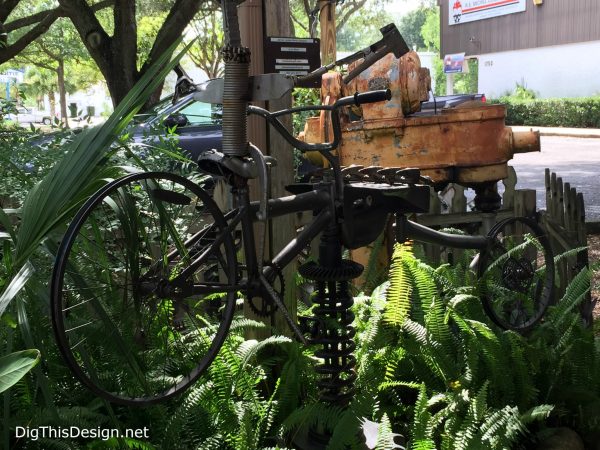 The coolest part of this adventure is the JUNK MUSEUM.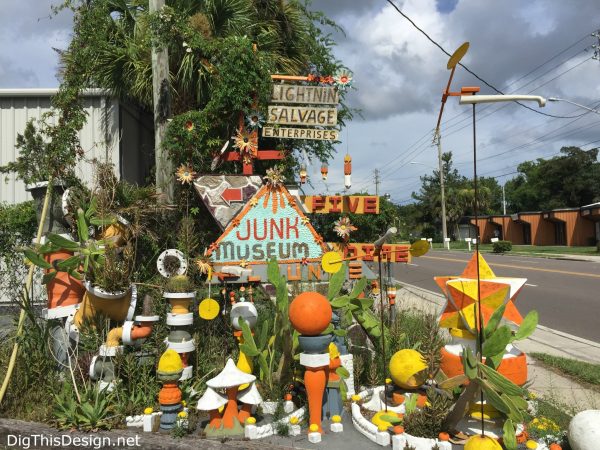 Satchel's mantra, as seen on the back of one of his menu's, "I'll pick up junk just to save it from the landfill, buy an old truck to give it new life, take a beat up building and bring it back to a pizzeria. I think it's because I grew up Baptist that I am always trying to save something." 
DigThisDesign is all about our environment and I totally dug his concept, especially the effect it had on Lee and I. I am so excited to share Satchel's inspirations and his museum with you!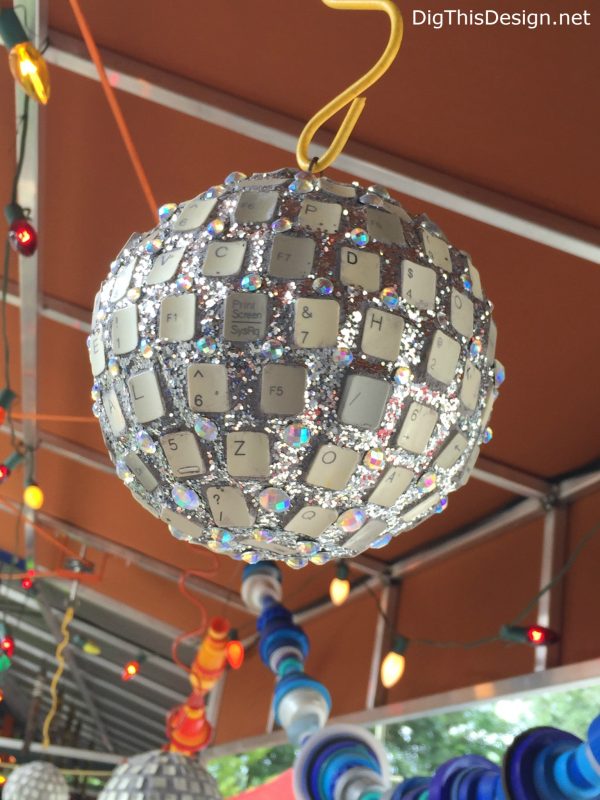 There was wall art which was a mash-up of pieces of old games, tiles, shells and things with the same message, JUNK is ART!
As an interior designer who also does lighting design, I am always worried about where the old lamps with out of date technologies end up. So, you can imagine the pleasure this wall art gave me.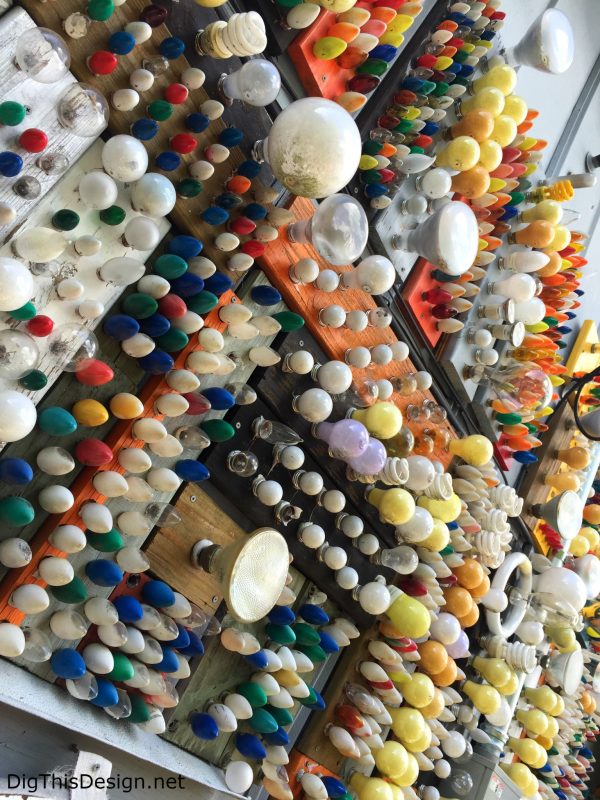 Do you recognize this material?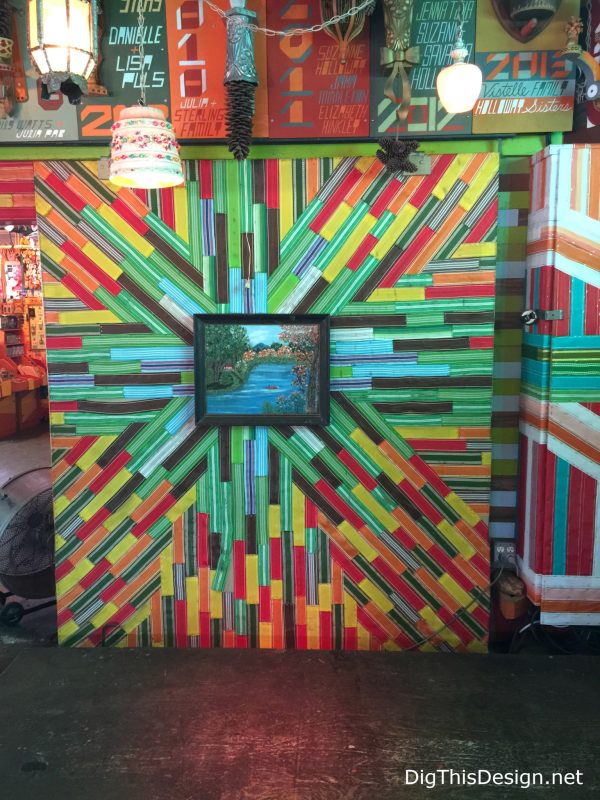 As a beach girl, I certainly remember my old uncomfortable beach chairs that my butt use to fall through!
Look up and you will see a ceiling made of old bicycle tires and garden hoses.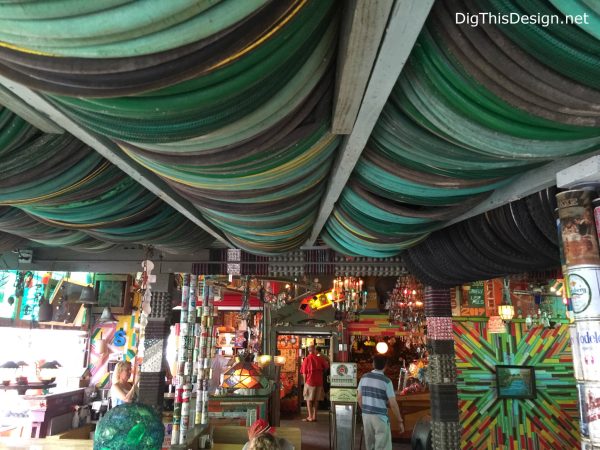 The kids playground was filled with toys past and I had a hard time keeping my 6′-4″ husband out of there.
Ofcourse I had to get into the graffiti.
This is a geek's paradise with one of the largest collections of Star Wars memorabilia.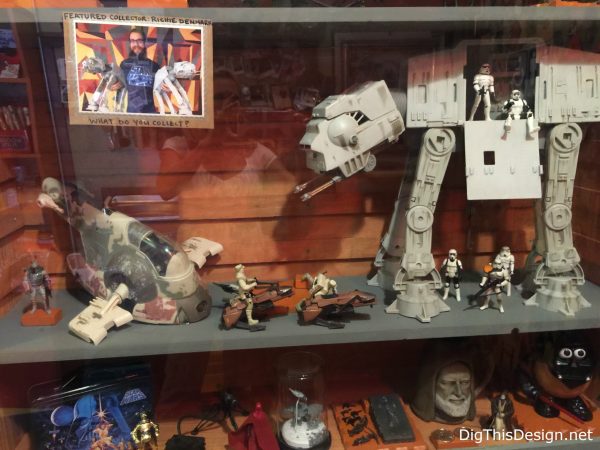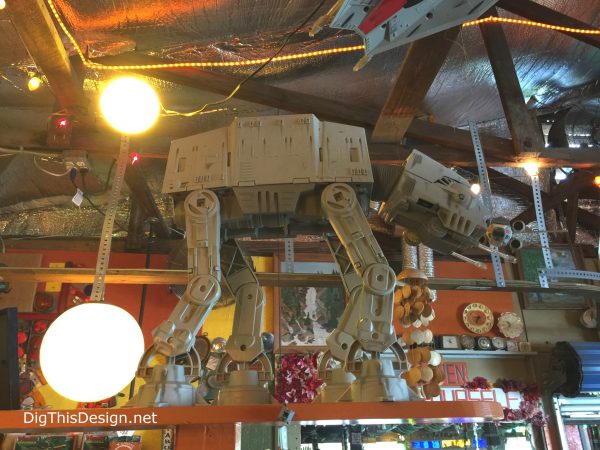 If the pizza and junk museum weren't enough, there's entertainment, Florida craft beers, and unique bottled sodas,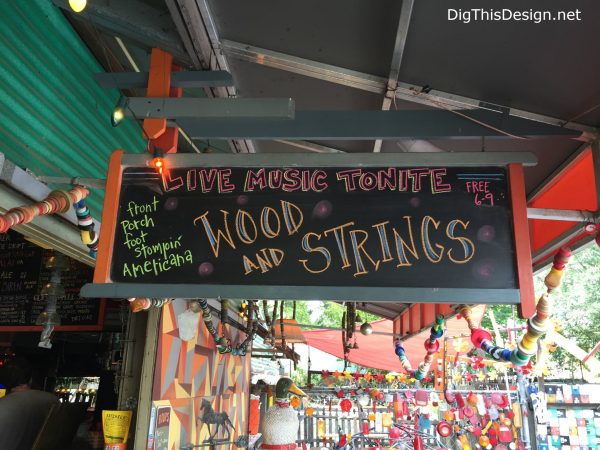 You can also dine in a greenhouse.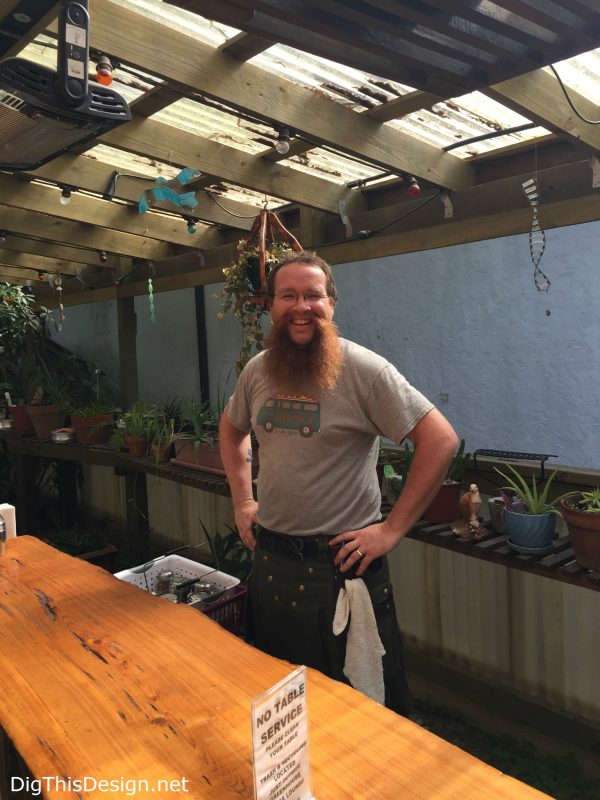 This old plane escaped the scrap yard and found a home at Satchel's where it didn't look out of place at all!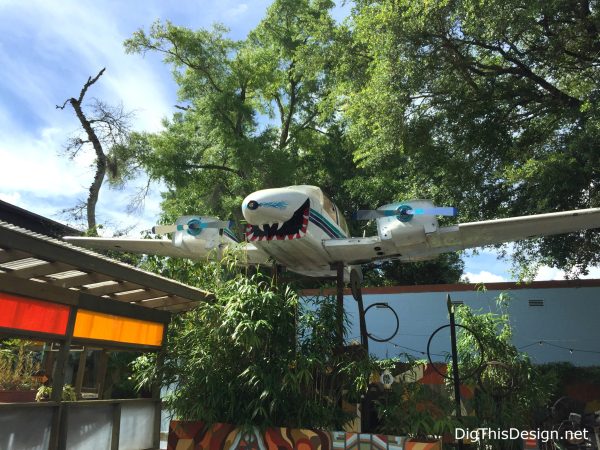 As you go to leave this unique world, the roundabout predominately features its fountain of junk.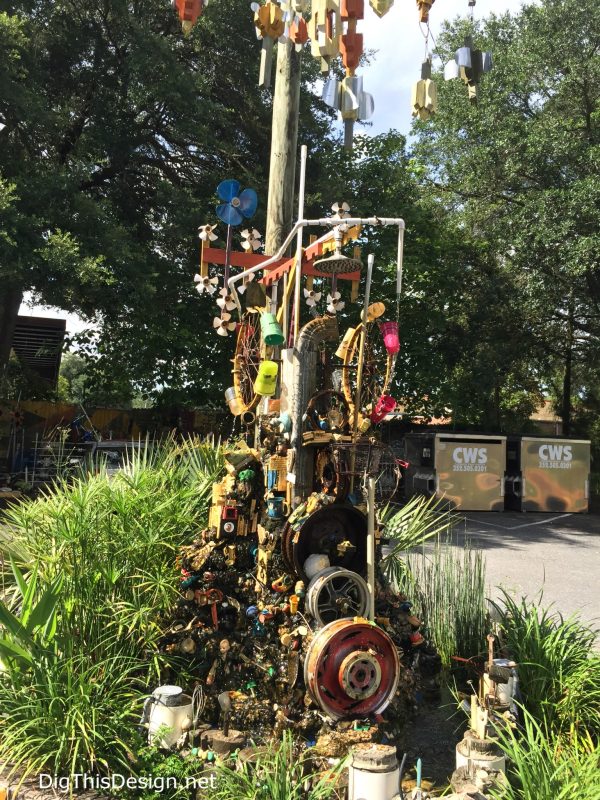 Satchel's is a place that gave us hope and due to my son's positive outcome, possibly it gave us luck! If you ever find yourself in Gainesville, Florida, I highly recommend checking out this very cool establishment. In case I forgot to mention, the pizza was AMAZING!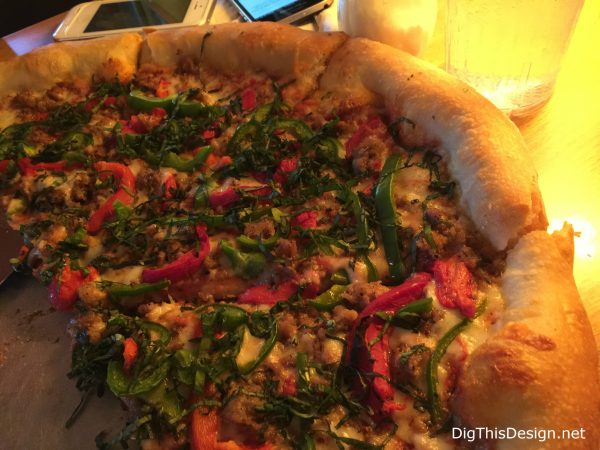 I must not forget the homemade desserts, where you view the menu on a vintage viewfinder.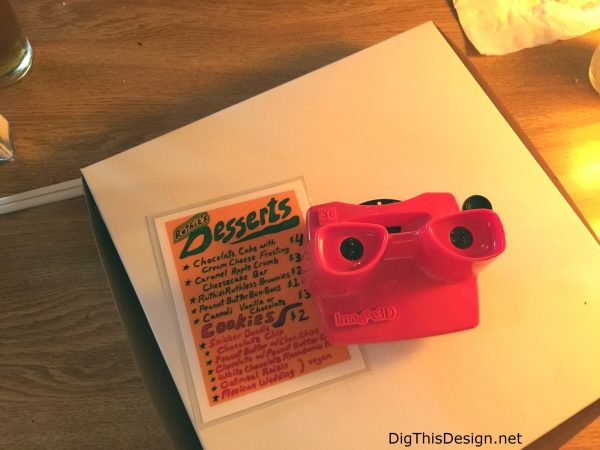 Share This Story, Choose Your Platform!