Clear The Shelves
Sometimes a lot of the junk is staring you right in the face. Look at your shelves and desktops first and get rid of the obvious clutter that seems to accumulate right under your nose. We all get busy and start making piles only to start new ones. Purging what's right in front of you will motivate you to dig deeper into organizing all of your office systems.
5 Tips to Start
Old Catalogs – Catalogs are usually dated after a year and need to be updated. Many catalogs have become digital and can simply be stored on your computer, eliminating the need to fill up a shelf. Many vendors will be happy to provide you with an updated catalog by email. To eliminate the bulk of physical catalogs, I subscribe to email lists of brands I like and save a PDF of their catalog so that when a job comes up that requires a certain look, I have my curated file ready to browse.
Label Shelves – Label each shelf to dedicate its purpose. This will help everyone in the office to stay organized all year since there is no doubt about where something belongs. This also makes you work more efficiently by not have to search for things that have been misplaced.
Old Electronics – Technology is changing all the time and it's important to look at what you currently have to make sure you are still using it or if it can be replaced by something like an app or more current hardware. If not, then donate it or recycle it.
Office Tools – Office tools such as staplers, tape dispensers, etc. can add a lot of clutter to our workspace. If you do not use it all the time then store it in a drawer to get rid of desk clutter.
Cords – Tidy up your work area by getting rid of unsightly cords. there are lots of great cord management products and DIY hacks around the web.
Transferring Last Year's Files Out of Your Work Space
It is important to separate last year's files from the current year. You want to have a file cabinet that will keep the last 7 years of accounting files and (depending on your business) client files. Every year should be labeled by the year and tabbed to indicate Insurance, Taxes, Payroll etc. All of these things are vital when trying to estimate your paycheck withholdings for the year, among other things. Do not transfer things you will not need to save. Be sure to go through your files and purge unnecessary documents so you are not transferring things that you no longer need. This might seem obvious, but holding on to excess will not help you keep 7 years of files under control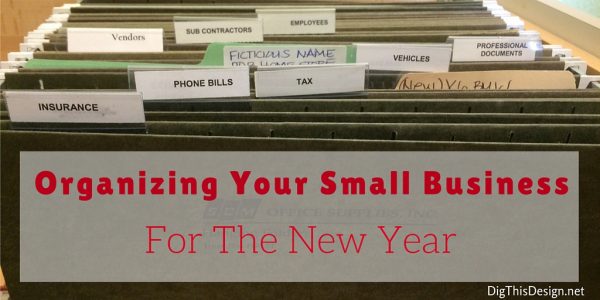 Make Tabs for Your File Folders
Banking
Credit Cards
Insurance
Tax
Vendors
Employees
Depending on the type of business you are in your tabs may have some that are not listed. I am in interior design so I would add to that list, clients, vehicles, sub-contractors, etc.
Organize Your Current Filing System
It is important to set your yearly goals prior to organizing your new year filing system. Goals are important because it gives you a direction to follow and evolve to the next stage of your career. By setting your goals first, you will be able to organize your files to better meet your current needs.
You want to also consider the flow in which you work, making sure everything is in an organized method to your workflow. For instance, I keep my current job folders near my desk so that I can easily access them as I am working at the computer. My job site tools are near my office door because I am heading out when I need them.
Purge Files Over 7 Years Old
To me, purging old files or in my case, old job plans is a way to detox my brain and re-energize by making room for new.
Recently, I took decades of my old hand-drawn plans and invited friends and family to join me in a burning. I had a party and we toasted to the past and welcomed the future together and it was very therapeutic. The idea is to celebrate past successes and make room for the evolution of the new you!
Share This Story, Choose Your Platform!