Every business is different, and invoices should reflect that. Incorporate your brand's imagery, fonts, colors, and wording to make each feel authentic and custom. Clearly label your document as an invoice in the bold, large font header. It helps ensure your customers know they have an outstanding amount to pay. The following is a guide for quality small business invoices.
Tips For Small Business Invoices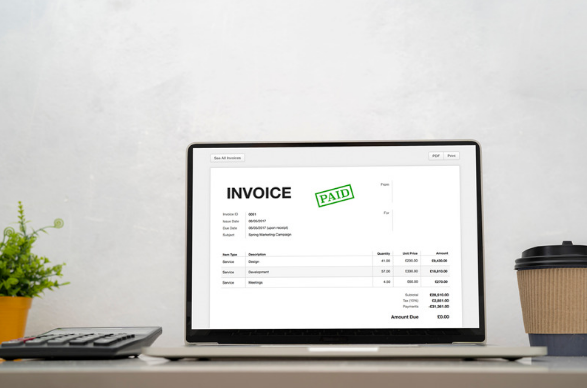 Invoice Template
An invoice template is a handy tool for businesses to use when sending an invoice. It includes a standard set of information that should always be included, regardless of the type of goods or services being sold. The invoice should also include the following:
The client's details.

Payment terms (usually a period from when the invoice was issued to when it should be paid).

The items or services being charged for.
Depending on the industry, add other sections, like items or services purchased or extra hours worked. It is also good practice to clearly label the document as an invoice in the header so that customers can immediately identify it when they receive it. Finding invoice templates tailored to your company's needs is simple with an invoice app for small businesses. You can also make them feel unique to your company by adding branded assets like photos, logos, fonts, and other custom design elements to ensure the final product feels entirely authentic. Then you can upload them to your account so they're ready for the next time you need to invoice a customer or client. You can also track your invoices with online software to know when they've been opened and matched with payments so that you can keep your cash flow running smoothly.
Invoice Header
A good invoice is a crucial element of your accounting system and can help ensure you get paid fully, quickly, and accurately. It's also a chance for your business to build brand awareness with clients, so pay attention to the design and layout of your small business invoice. Consider including your logo and using signature fonts to ensure the invoice reflects your company. Your small company invoice should have the customer's name, address, contact information, and website address (if any) in the header. It's also a good idea to clearly state the total amount that the client is owed at the top of the invoice. It will help prevent any confusion about the total and ensure no one misses it when reviewing the invoice.
Invoice Body
A clear, thorough invoice can mean the difference between an email getting lost in a client's inbox and being paid on time. It is essential when invoicing clients via email since tracking and finding invoices can be more challenging if they need to be labeled correctly. The first thing you'll need to do when sending an invoice via email is include your business name and address in the subject line. It will help your customer quickly identify the email as an invoice and ensure it's routed to the right person within their organization. Next, you'll need to add the recipient's address in the body of the email. The client's name, title, company, street location, city, state, and zip code are often included. It's essential to correct this information as it will be used to send payment and confirm the delivery date for the product or services provided. In the body of your invoice email, you'll briefly describe the products or services you've provided to the client. You'll also need to list the items, quantity, and unit price (if applicable). In addition, you must specify how the consumer may pay you, such as by check or credit card, and offer a unique invoice number.
Invoice Footer
You are free to connect with your clients in whatever way you like by using the "invoice footer" area found at the bottom of your invoice. Use the footer of the invoice to include a letter to the customer, your office hours on holidays, and any other significant information you want to communicate with them. Invoice footers can also display additional information that applies to the entire credit or invoice, such as carriage charges. These messages can be created in the footer tab and will appear on every job card, customer invoice, and customer statement that is generated. To enter a footer message, click the Invoice footer tab and select the Messages option.
A professional invoice is important for all businesses and especially small businesses. Organizing an invoice with a header that shows a professional logo, the main body which explains the purchase in detail, and the invoice footer, concluding delivery charges, allows for prompt payment.
Other posts you might enjoy:
6 Billing Methods For Interior Designers
Interior Design Business; Creating an Effective Website
Does an Interior Designer Need the Overhead Costs of a Brick-and-Mortar Showroom?
Share This Story, Choose Your Platform!