Now before you get mad at me, hear me out. I was an entrepreneur who couldn't wait to grow her company, but what I quickly learned about myself is that I hate managing people. I thought that if I hired people strategically to do certain tasks, such as bookkeeping, CAD, estimating, sales, etc. then I could take on more work and turn it into contracts faster. The problem with this theory was that people need to be managed and quite frankly I sucked at it! I ended up having to manage all of them. Many of them had a resentful attitude towards me and I resented them for expecting a weekly paycheck for work that never seemed to get completed.
Working SMART
My goal today is to work SMART! I feel that we are living in one of the most prosperous times ever. If you can automate your company and outsource most of your tasks through an outsourcer, you've got a well-oiled machine. Outsourcers are motivated to get it right, get paid and get more of your business. I love that, it's a win-win model for both parties. Automation on the other hand allows your company to run most of its processes on its own leading to less error and more efficiency. With the right Automation Anywhere course one can learn how to achieve that efficiency. The Internet is a vast world of opportunities where you can work without borders, how cool is that? There are no time clocks only pure motivation because the work is centered around quality deliverables.
How I Automated My Interior Design Business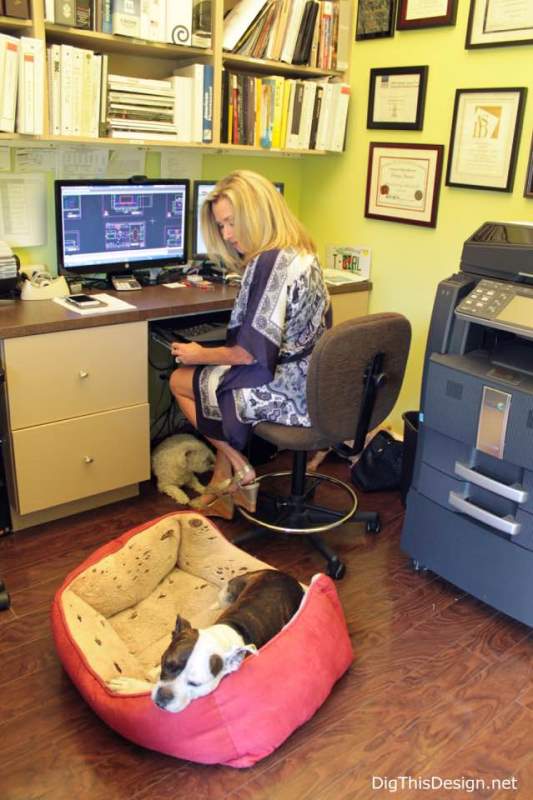 In 2009 I found myself in a recession. It's at times like this that you either sink or swim and I am no one to go down with the ship! I started reducing my staff in 2007 with the impending recession, I got rid of the "dead weight" so to speak and kept one AutoCAD employee. By 2009, the recession affected the high-end market and there was simply no work. This was the first time I had time to think about running my company in a different way and I knew the only way I would survive the recession was to expand my market and the only way to do that was the internet. The internet is international, which meant that if I could access people I could work anywhere in the world, with anyone.
Virtual Design
Professional Kitchen and Bath Plans was my first internet company I developed. PKBP is a virtual design company and through Skype and a computer or tablet a person can virtually walk me through their space. Designing a space is mathematical and starts with the dimensions of a room which will allow me to design the space. The aesthetics of a design follows the mathematical layout and is a process of interviewing the client on their vision and then finding the materials to develop the design. PKBP has a video tutorial that walks a client through the measurement process and checkout, it's as easy as that!
Online Store
PDBHomeStore was my e-commerce site. Most of us shop online to find the best price. One of the biggest complaints most designers have is they spend all their time shopping for their clients only to have them go online and shop against them. I eliminated the problem by creating an online home furnishings site. At first I loaded it up with 10,000 products and then I realized I was competing with the big guys like Amazon, so I changed my model. Now, my store has only unique artisan products along with Eco-Friendly and Clean Living. The store taught me about how to use outsourcers. If I need someone to upload a catalog I can put it out for bid and companies bid on it. This is a great way to get work done and I have not had any problem with working this way. The outsource companies are super eager to please, and the quality of their work is great. They know if they do not do a good job they will not get anymore work from me and that is what motivates them.
International Design Blog
www.DigThisDesign.net is my international design blog about ALL things design. When I started the other internet companies I was advised by SEO companies that I needed a blog to push the brands, so I started my blog. The blog has been the absolute biggest surprise and the most successful of all my internet companies. My blog has grown into a popular design blog and has become a marketing platform. I am an interior designer who absolutely digs ALL things design and that is how I set up my blog. I cover topics on DIY, Interior Design, Seasonal Design, Architecture, Technology, Art and fashion, which are all of my passions. Dig This Design appeals to a broad market like magazines do, which creates an income stream from marketers in each of our categories.
Interior Design Firm
I still have my design firm, Patricia Davis Brown Designs, LLC where I work from a home office. I have my selections room on my property where I meet with my clients and the team of professionals on the project. I have one assistant, and our work office is in the home with an exterior door, so trades can come and go from my office. My home is my showroom and I have a 30 year portfolio of work that speaks for itself. I have eliminated the huge overhead of a brick and mortar building and a staff that I have to spend my time managing and I have built an interior design network of services. I can be selective in who my clients are because I do not need as many now that my overhead cost are low. This business model gives me the freedom to diversify my company and not have all of my eggs in one basket and that's what I call working SMART!
Think Outside of The Box
No mater what your business is, it is good to think outside the box. As a business owner you need to look forward and try to forecast where innovation and technology is taking your industry and stay on the cutting edge. When I realized that my employees were not helping me with my bottom line, only taking from my bottom line, I cut them loose. Not only did this relieve the stress of managing them, but I put the task out to be bid in a competitive market and reduced my overhead tremendously! I now keep more of my profits and can be choosy who I pick as my client. Fewer and fewer businesses need real life employees, it's where our world is headed, reducing cost and liability. This is not a bad thing because it makes people innovative in marketing their skills and if they are good they become successful, no more of the, "you owe me." attitude. I outsource to people all over the world and the work is quality!
Good Partners
I look at outsourcing companies as good partners in getting the job done right and efficiently. In the years that I have been working with this business model I have developed a list of ones I find truly beneficial:
Intellect Outsource – This company does data entry for me on my PDBHomeStore.com.
canva.com – An online graphic company that is FREE. Canva allows me to easily create banners, infographics, promotional images, and more without needing to figure out how to use tools like Photoshop or Sketch.
Liquidweb.com – These guys are who host my sites and keep me up and running. They are much cheaper than the brick and mortar rent or mortgage.
Upork.com – This platform connects me with freelancers when I need something such as custom coding and web development.
Hootsuite.com – This tool streamlines the process of posting updates on social media by allowing me to organize all of my accounts in once place and scheduling out posts throughout the day or week.
Bookkeeper – My bookkeeper comes in every other week to do my bookkeeping, which isn't much since I streamlined my business model. He would kill me if I gave out his number because he is too busy to take on new clients. That's the point, if your good it pays to outsource your talent, you make a lot of money.
Images Courtesy of Canva.
Share This Story, Choose Your Platform!