Installing energy-efficient windows has many advantages over time. They help maintain heat during winter and cool air during summer, thus decreasing energy usage and saving money on heating/cooling bills.
Sound barriers provide another benefit: they reduce outside noises such as traffic and harsh winds, creating an atmosphere more suitable for family life and relaxation.
5 Considerations for Energy-Efficient Replacement Windows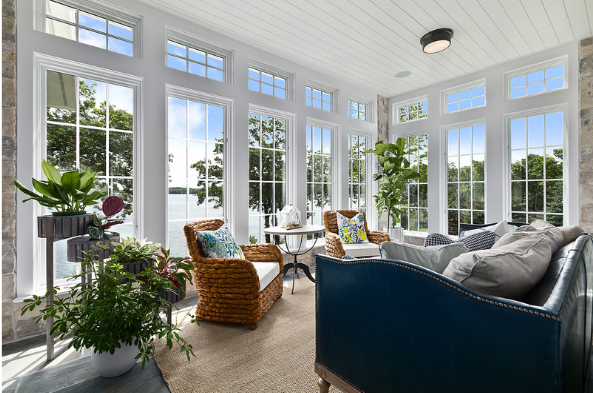 Save Money on Energy Bills
One of the primary motivations behind homeowner investments in new windows is saving money on energy bills. Old, single-paned, broken, or drafty windows may waste energy that would be better put towards heating or cooling your home instead.
Replacement windows equipped with Low-E coatings and Argon gas-filled panes help homeowners maintain comfortable temperatures all year long without resorting to heaters or air conditioners as frequently, thereby helping reduce energy use overall and greenhouse gas emissions.
Upgrade from old aluminum single-pane windows to Energy Star double-pane windows for a noticeable reduction in your energy costs. 
Increase Your Home's Value
Many homeowners prioritize energy efficiency when undertaking home improvement projects, seeking upgrades that will enhance insulation, reduce electricity bills, and lessen reliance on the grid. Energy-efficient replacement windows offer an effective means of fulfilling this goal.
Old single-pane windows allow heat to escape during the winter and do an ineffective job of keeping air conditioning inside during the summer. New windows with multiple panes of glass insulated with inert gases such as argon and krypton block the sun's heat while still providing natural lighting; cutting artificial lighting costs while increasing comfort levels.
New windows also enhance home security, making it harder for intruders to break in through windows. Depending on the type of window purchased, many areas offer tax credits from either federal or state sources.
Reduce Noise
Energy-efficient windows can also help decrease noise pollution from outside, an issue many homeowners experience regularly. This is particularly crucial if you live in an active area.
Dual and triple pane energy efficient windows contain dense gasses such as argon between their panes to help minimize sound transmission, creating a quieter and more peaceful living space for you and your family.
Protect Your Home from UV Rays
Energy-efficient replacement windows are designed to reduce UV radiation that enters your home from the outside, which is essential since UV rays from the sun can cause fabric, paint, and wood surfaces to fade over time.
Dual and triple pane energy efficient windows use argon gas to help block heat transfer from entering your home, as well as UV rays that could otherwise enter it. This creates a more consistent indoor temperature and decreases fabric, furniture, and carpet fading.
Installing new, energy-efficient replacement windows can save money on heating and cooling costs by requiring less work to maintain desired temperatures in your home. They'll also protect furnishings from UV rays, keeping the sun at bay!
Reduce Condensation
Condensation can be a severe problem in some homes, particularly kitchens and bathrooms. It occurs when moisture in the air collides with cold window surfaces, creating foggy window panes that can be hard to clean without creating mildew 
Energy-efficient windows reduce condensation, eliminating the need to frequently wipe down window surfaces. This will immensely help when selling your home and ensure you receive top dollar for it.
High-quality windows and doors in Vaughan, come with such energy-efficient features. They are designed to reduce condensation and maintain an optimal balance between inside and outside temperatures.
Conclusion
Energy-efficient windows will help lower heating and cooling costs while offering peace of mind. They reduce drafts, hot spots, and outside noise and increase comfort all year long in your home.
Other posts you might enjoy:
Invest Wisely in Home Window Replacements
How to Hire a Window Replacement Contractor
Share This Story, Choose Your Platform!