I am constantly looking for material to specify on my design jobs that are unique and totally out of the box. Concrete is one of those materials that gives me endless opportunity to make a unique design statement. Recently Stephanie and I paid a visit to one of my favorite local artisans, Rich Coulter of Coulter Designs and he talked to us about a unique process of designing graphic inlays into concrete. I was blown away by what I saw and I immediately started thinking about current projects that this technique would be perfect for.
Richard has worked with a number of commercial spaces to use their brand logo or name on walls, floors, or furniture for a branded customer experience. Because artisans like Rich can apply a graphic inlay to any of their concrete or surface finish works, the combinations are endless. Of course, Rich doesn't only use this technique for giving businesses a consistently branded look, residences are always welcome to the custom graphic treatment.
Graphic Inlay on Furniture
Round tables are great for creating a social environment and the vessel space at the center is perfect for filling with ice to chill drinks or create a cozy fire pit, that's what I love about custom it's made to fit your lifestyle. Rich gave the table a custom antiqued blue finish, graphic inlay pattern, and the family's monogram on the cover for the center vessel.
A popular motif for Rich, because of our coastal environment, has been maps of Florida, the Atlantic and the Caribbean on custom concrete table tops. I love the organic style of these and I am always looking for unique products that represent nature, so I have Coulter Designs furniture available at PDB Homestore.
Graphic Patterns for Walls and Floors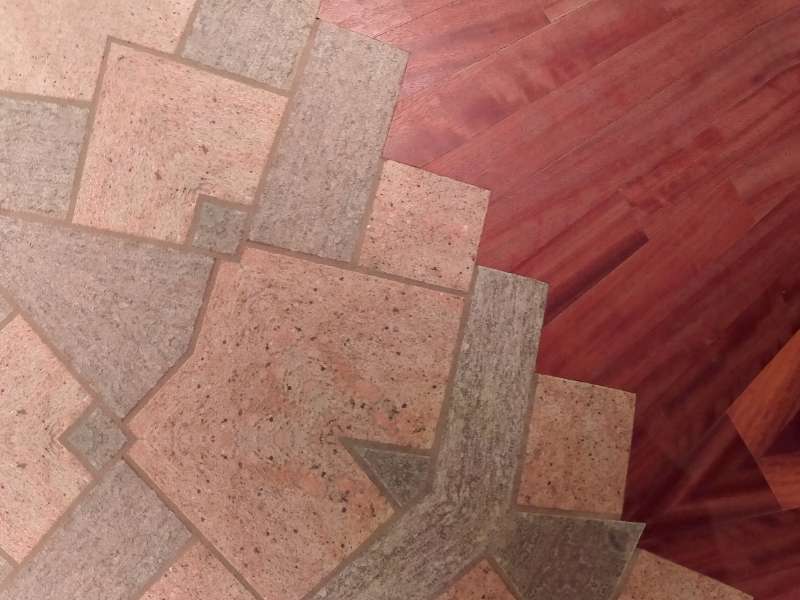 ---
Another of Rich's projects shows how graphic inlay can be used on wall treatments as well. As you can see there is no pattern off limits, whatever you can imagine can be turned into custom wall art!
Depending on the design goals, a bigger impact can always be made, such as in this corridor flooring.
Concrete Inlay From Designers Around the Web
Are you a designer or architect that has used this technique in your work and would like to share your project with us? We would certainly love to showcase your work so, leave a comment and let us know.
Share This Story, Choose Your Platform!