We all deal with an air conditioner or heater that isn't working properly at some point. But what about when it's time for a completely new HVAC system installation? When you're installing an HVAC system, there are a few things that you must know to ensure a smooth process. It isn't exactly easy, but today, we're bringing you tips to make it easier for you.
Are you upgrading your HVAC system? If so, we invite you to continue reading the learn what to expect during the HVAC system installation as experts upgrade your heating and cooling system.
An Essential Guideline To Your HVAC System Installation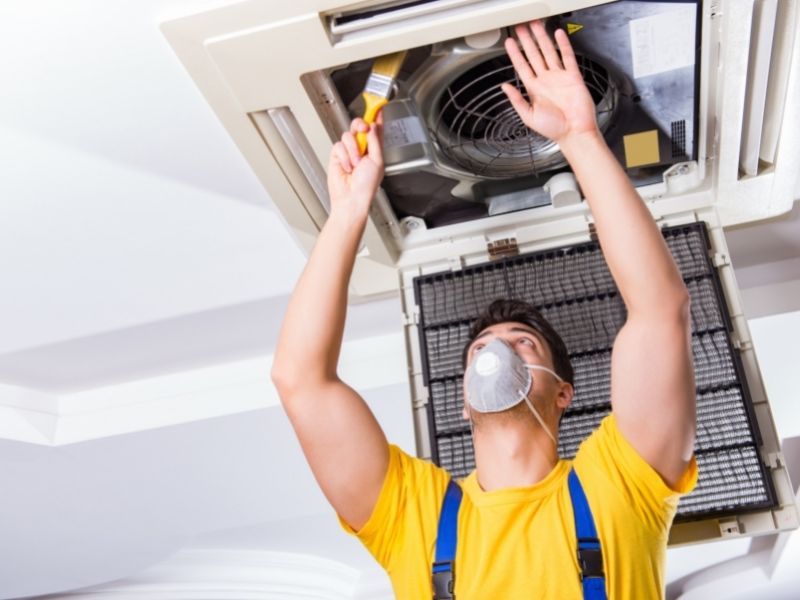 Stage the HVAC before installation.
Before installation day, the HVAC experts stage the equipment in an area outside your home or even in a service shop. They do this to ensure that everything you need for the job is on-site and ready to go. General Air Conditioning & Plumbing HVAC installation experts note that this is essential to ensure the installation process goes quickly and smoothly.
The last thing you want is delays from missing or incorrect parts. Therefore, ensure the equipment and supplies are in place. The staging process also allows the technicians to identify potential problems before they happen during installation. This allows them time to address issues so that there are no mistakes, accidents or time delays.
Remove the old equipment.
The next step involves the removal of your old HVAC equipment. This will be done by professionals who will ensure that it is done safely and efficiently. Before this happens, you should remove all valuables and personal items from the area. Keep in mind that the removal process can be messy, so be prepared for dust and debris. Professional installers anticipate this and bring along protective sheets to lay on the floor.
The old equipment is removed, and your home can now have a new HVAC system installed in its place. This may entail construction if you're having a central unit put in, but it should be minimal compared to what was required to remove the existing unit. You may want to review the plans from your contractor before this process to ensure you know exactly what's going on in your home.
Install the new unit and perform quality checks.
Once your old unit has been removed, the new unit will be installed. A step-by-step process is followed. The first is the installation of the outside compressor and running both electrical wires to a exterior box on your home. Then follows the installing the inside coil, condensate line, refrigerant lines, and attaching wiring from the outdoor unit to wiring in the existing furnace or air handler.
The installation technician then does a quality check before startup up the new HVAC unit. After ensuring everything works, they check the unit will for performance. They do this by carefully measuring the airflow, static pressure, temperature rise, and compressor amps against the manufacturer's specifications. The final step is cleaning up the mess and installing the cover.
Schedule a follow-up maintenance for adjustments.
Once everything is set up and running, it's important to continue checking with the HVAC contractor from time to time. For example, you might find that something isn't running right, or there are issues with the system itself. So, schedule a follow-up visit to see how it's performing and if there are indications for adjustments. The follow-up ensures that all components work properly and meet your expectations. It's also part of the recommendations for regular system maintenance.
During this process, you also see the energy use by looking at your past bills before the new installation. If you find that your energy bills are increasing, call the contractor to adjust the system. Remember, investing in a high-efficiency HVAC system saves you money on energy bills and helps you take a big step towards meeting your green goals.
Hire only professional installers.
Ensure that you only work with professional HVAC installation experts. This is extremely important to the overall quality of your new system. It also saves you money in future repair costs. Additionally, an HVAC installation is a huge project, but with careful planning and execution, it is a smooth process. Make sure to be aware of these key points so you know what to expect and plan accordingly.
In conclusion.
If you have any questions or suggestions, we always love to hear from you in the comments below. Also below are links to more fantastic articles about ALL things DESIGN for your home or business.
Images Courtesy of Canva.
Other Posts You Might Enjoy:
Furnace and AC Repair Plano Tx | Troubleshooting Plano HVAC Ventilation
4 Benefits of a High-Efficiency HVAC System for your Home
5 Characteristics of a Good HVAC Technician
How You See Your HVAC SEO Process and How The Search Engines See It
Share This Story, Choose Your Platform!