A Guide to Formulating the
Perfect Sized Kitchen Island
By Patricia Davis Brown

There is nothing worse than finding out after your remodel or new home construction that the kitchen island is not an efficient size for the space and it's too late to do anything about it. One of the biggest mistakes I have seen people make is getting a house plan and just taking for granted that the kitchen is drawn correctly to fit the space. Typically, plans come with just a kitchen blocked out, not really thought-out. 
This guide will give you the confidence and the tools to:
Formulate the maxim length and width your island can be.
Ergonomic calculations for height and depth of counter overhang for seating at the island.
Minimum and maximum clearances around the kitchen island.
Details on how to transition two countertop materials together.
Rules to designing the main sink on the island.
Tips to designing cooktops and ranges at the kitchen island.
Recommendations for storage solutions to accommodate island cooking.
A visual guide to island shapes and the benefits to each.
Put the ball in your court by following my step by step instructions on the perfect island for your new kitchen!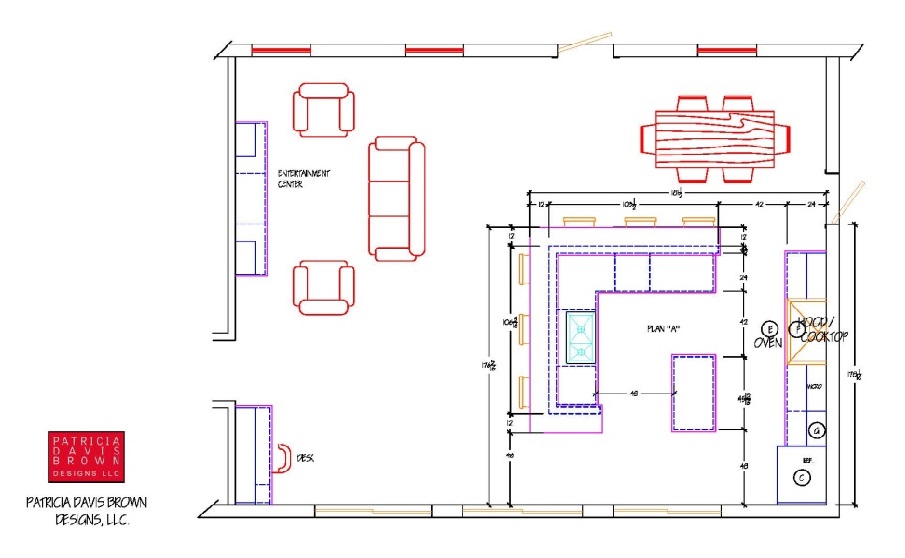 I understand how stressful an interior design project can be. You may need someone to guide you, help to explain all those choices, and point you in the right direction. I'm available for consultation via Skype for your interior design project, no matter the size. Our virtual session will include a document detailing everything discussed. Feel free to contact me prior to setting up a consultation.
Share This Story, Choose Your Platform!