Purchasing an old home can really take a bite out of the bank! It can be an overwhelming project to tackle all at once. It is best to take inventory of which rooms demand a full remodel and which rooms you could do a face-lift on. My story was a no brainer, I first had to renovate my home for my son's accessibility issues as he is in a wheelchair, which encompassed the two guest bedrooms and bath's. That did not leave much in the budget for my master bathroom. Not to mention after phases of remodeling you just run out of steam. So, let me give you some tweaks you can do to give your bathroom new LIFE!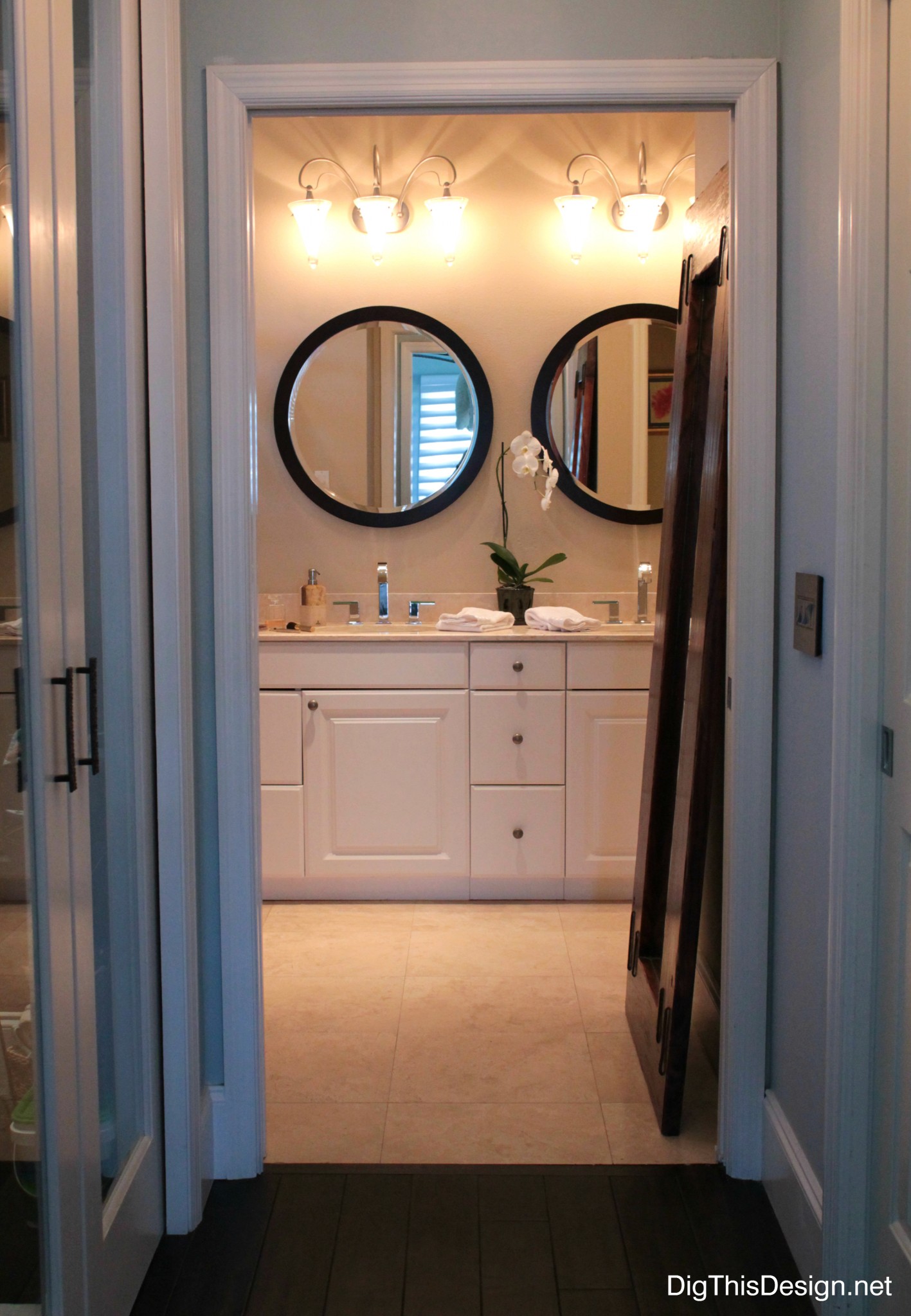 NEW BATHROOM FIXTURES
The previous owners had remodeled the master bath and even though it wasn't my taste it was a good space. The shower was a double headed shower built for two and the vanity was two vanity bowls with a Travertine marble top. The vanity faucets had seen their day and really needed to be replaced. As I always tell my clients, " Don't chintz on your decorative faucets, you will curse the day!" You need a faucet that will stand the test of time and I knew the brand for me was Brizo. I was introduced to this product in 2011, when they sent me a faucet to test in my summer kitchen. I live in a coastal environment and knew if it survived the coastal elements outside, then it is a great brand for my clients. Well it did! Four years and a lot of parties later, it is still my summer kitchen faucet.
Brizo has a wide variety of styles and finishes to choose from and the one that spoke to me for my bathroom was the Siderna in a polished chrome finish. Another option available to me with the Siderna was the glass accent caps. One of my design philosophies is bringing the outside into the interior design and this detail represented the waterway just outside my door. DigThisDesign is ALL about environmentally friendly products and Brizo met that requirement as well, with their WaterSense certification that meets the water efficiency specifications set forth by the E.P.A. with a flow rate of 1.5 gallons per minute. I am a stickler for allowing only clean living products into my home and I know Brizo faucets are designated as being "no-lead compliant", which is a must in my home!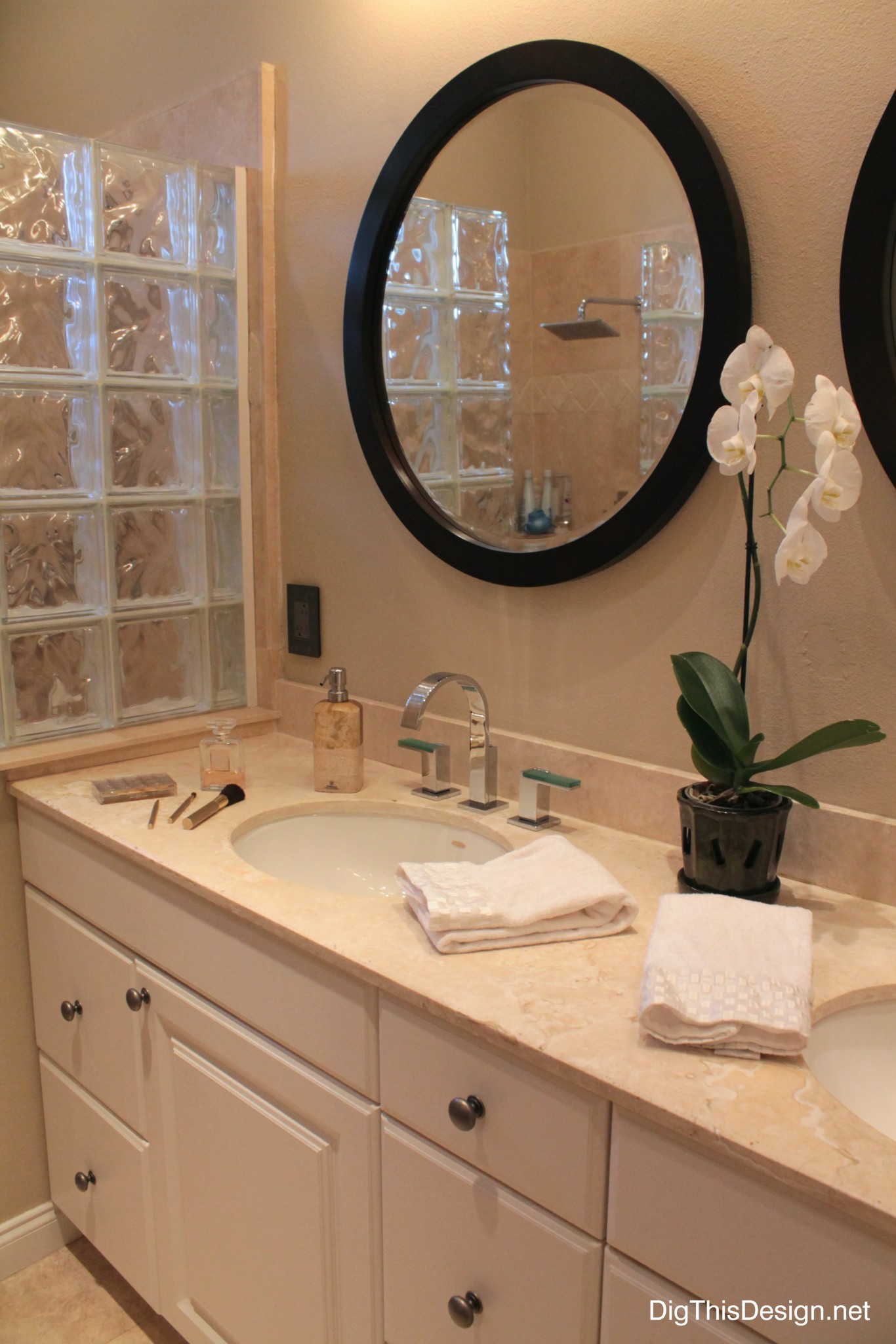 I like to match my faucet style with my shower fixtures and the Siderna has a whole suite available. I chose the rain shower head for my side and my husband went with the adjustable shower head on the bar for versatility. This is also a good time to check for any leaks, minor or major, that require attention. There are a number of plumbers in the LA-Los Angeles area that can help find and fix any problems.
DECORATIVE MIRRORS
The existing bathroom had wall to wall mirror above the vanity and to me that read as "DULL"! You have to be careful when removing a mirror; I always recommend having a glass company do it for safety reasons because broken glass is hazardous. This is a task you do not want to save money on by doing it yourself, leave it to the professionals.
I added two simplistic round mirrors which matched my ebony hand-scraped Walnut floors, giving just the accent to "pop" the design! Something as simple as decorative mirrors can have a big impact and it doesn't have to cost much at all. I also found a leaning mirror made out of reclaimed dark wood that perfectly fit one of the blank walls in the bathroom, it serves as a handy addition to make sure my shoes match my dress.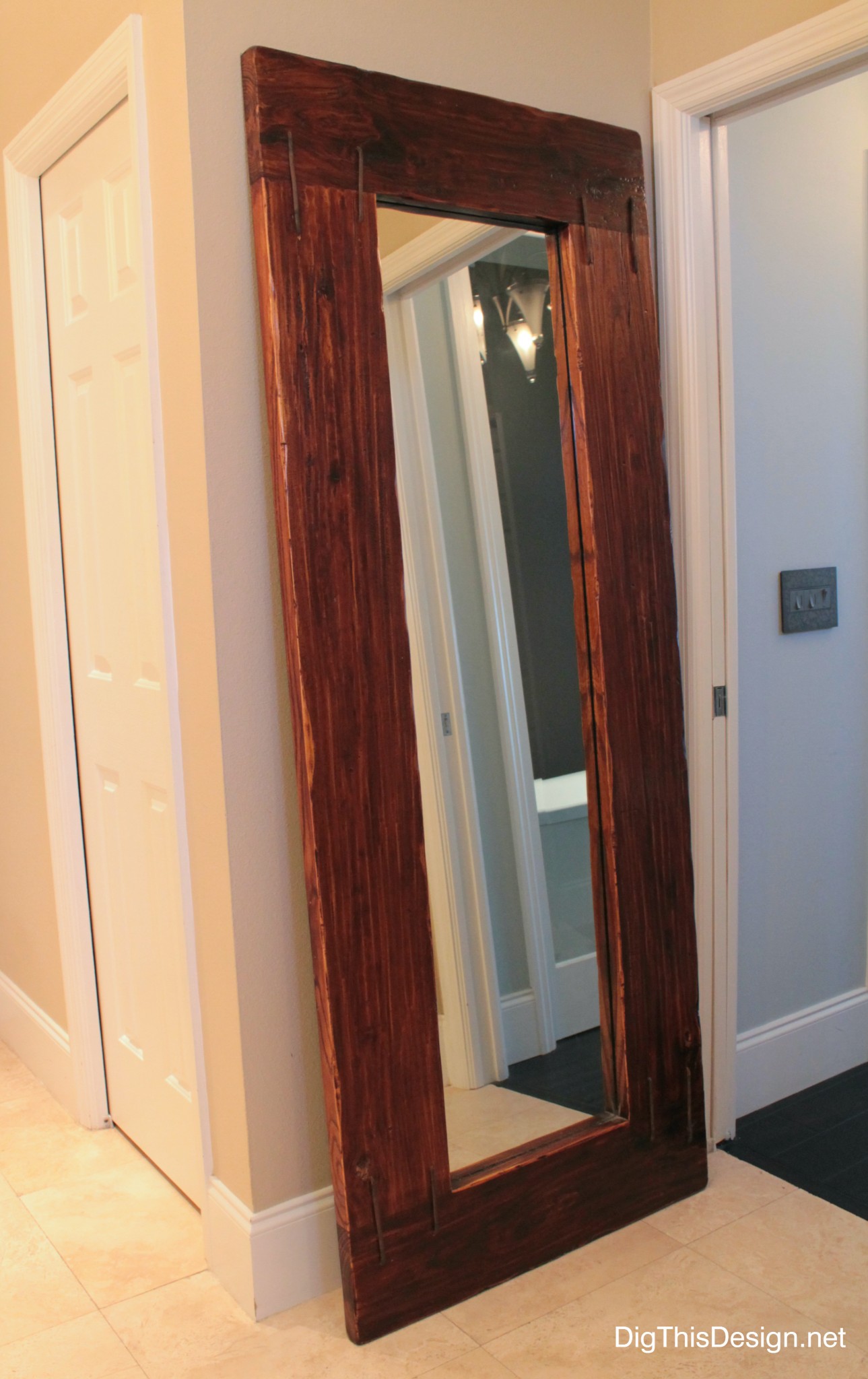 LIGHTING
Decorative lighting adds to the décor you are going with and offers a variety of prices to meet anyone's budget, but I took it a step further by designing a whole new lighting plan in my bathroom facelift. By doing this, I created a better bath experience. Don't underestimate the value of proper lighting in a bathroom. I recommend a layered lighting approach for the best outcome. You want to consider general, task and accent lighting in a master bathroom design. A lot of tasks are performed at the vanity and knowing the rules to proper lighting can save you in the frustration of not getting it right. You want even illumination across your counter. You can see the illustration below showing the beam spreads intersecting 6-inches above the counter top to eliminate any shadows. Also, note that I do not have the lighting directly centered on the vanity bowl because that would create unattractive shadows across your face making you look like Edgar Allen Poe and you don't want that. You will also need decorative fixtures to give cross lighting across the face in combination with the down lighting. For more details on spacing and figuring the right amount of candlepower, go to my seminar on, "How to Survive a Kitchen and Bath Remodel".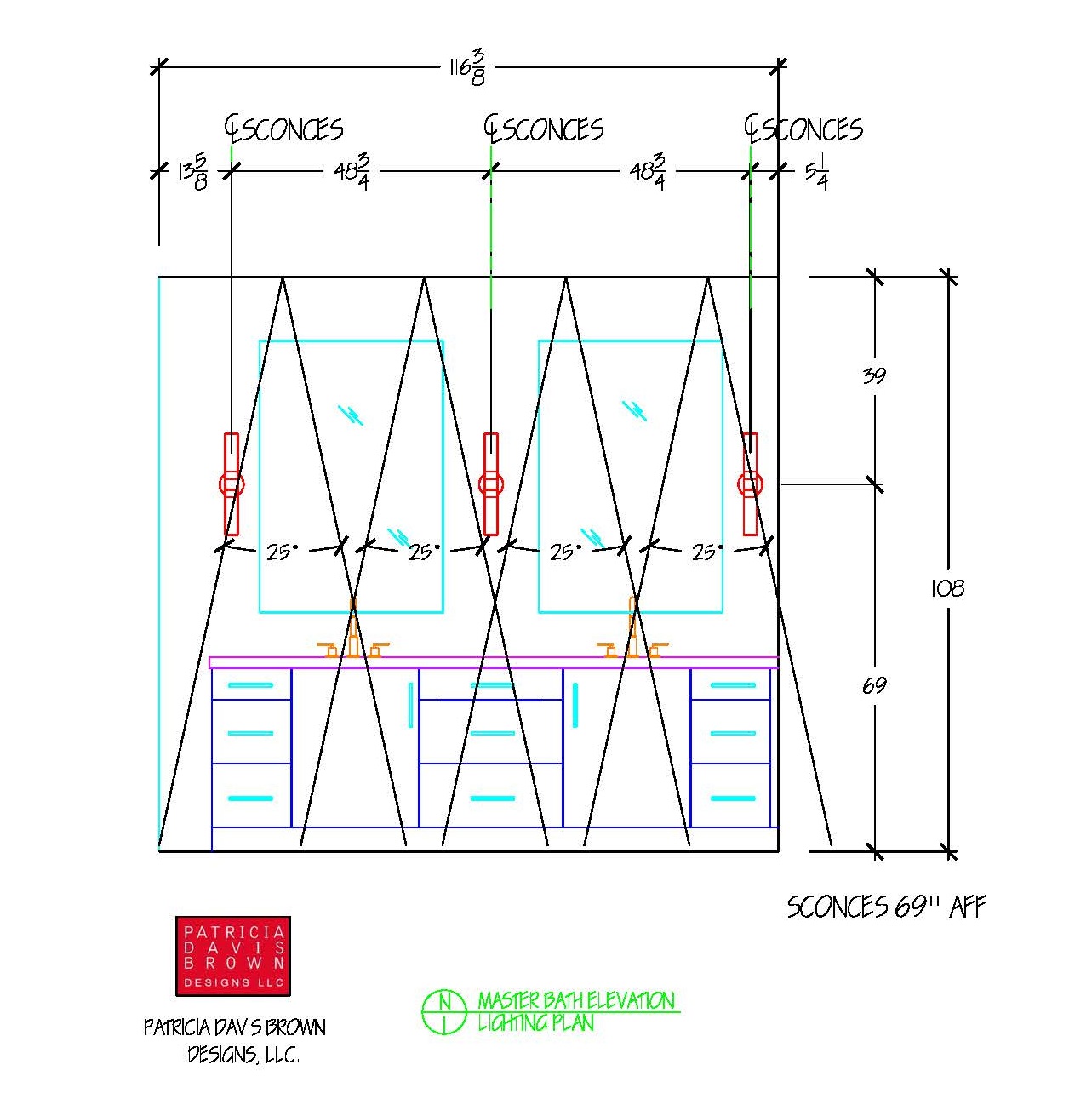 Share This Story, Choose Your Platform!