How to Design a Furniture Layout For a Large Living Room
Designing a furniture layout for a large room can be every bit as difficult as a small space. There are many things you will need to consider to get it right. My intention for this post is to give you the tools that will help you figure out all of the possible layout options. Doing a furniture layout is a mathematical equation that you will need to figure out in order to fit the room properly. You don't want a room with too little or too much furniture in it, it's all about balance and scale.
Three things to consider when planning a living room
How do you intend to use your living room?
When designing any room, it is going to be important to know its intended use. As a communal space, living rooms should accommodate all of the individuals in the home. They should be considered and asked about their comfort needs. Below is a list of questions you will need to ask yourself and the household to help get started in the design phase of laying out your furniture:
Will you use the space formally or casually? This is important to consider the type of furniture you will need to fit the lifestyle. If the room will be used more like a family room where you will be watching television or playing games, comfort and wearability will be of higher priority. A more formal living room environment can lend itself to be more about the aesthetic design of the furniture pieces.
Will this room be a place for entertaining? The activities that will happen in the room are important. While planning your room, you're also planning around your lifestyle. Will you be watching TV, playing cards, reading, meeting clients, hosting parties etc.
What is the largest number of people that will be gathered in this room at any one time? This will help to design the space for social gatherings.
Do you need to design pet spaces in the living room? Pets are members of the family and usually gather where the family gathers and, therefore, should be considered in the design.
Where are the focal points in the room?
Focal points are important because seating arrangements should be designed towards a good view. Sometimes there is more than one focal point, this will allow you to have multiple furniture groupings.
How is the room viewed when entering from adjacent spaces?
Anytime I am designing a room I take into consideration how the room is viewed as you enter it. You want it to have visual appeal from all viewpoints. Who wants to enter a room and be looking at the back of a couch? In a situation where you are seeing the back of a couch, you might want to consider a console/sofa table decorated with accessories.
Four furniture layouts for a large living room
It is important to consider more than one way to layout the room and talk to all members of your family for their thoughts. You want to create a space that is comfortable to the family as a whole.
The first layout shows two seating groups that would fit the space. This gives great circulation paths throughout the living room, making it easy to navigate. This layout also gives direct views to the focal points in the room, the fireplace and the large window with a pool/patio view. As I mentioned above, you need to make sure that the view of the living room from all adjacent rooms is aesthetically pleasing, which is why I am showing the couches backed by console tables. This room is set up to entertain a large crowd.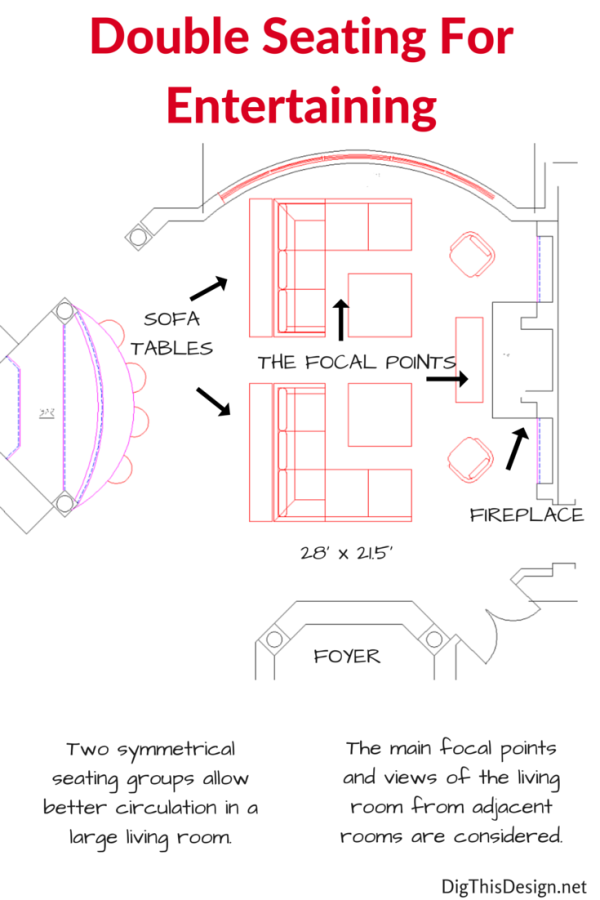 The next living room furniture layout is set up for multiple activity zones. The main social grouping is arranged with the large couch and two chairs, conducive to a social gathering. The two lounge chairs that face the pool/patio window are for a more cozy activities such as reading or with a partner, perhaps sharing a cocktail while looking out at the pool beyond.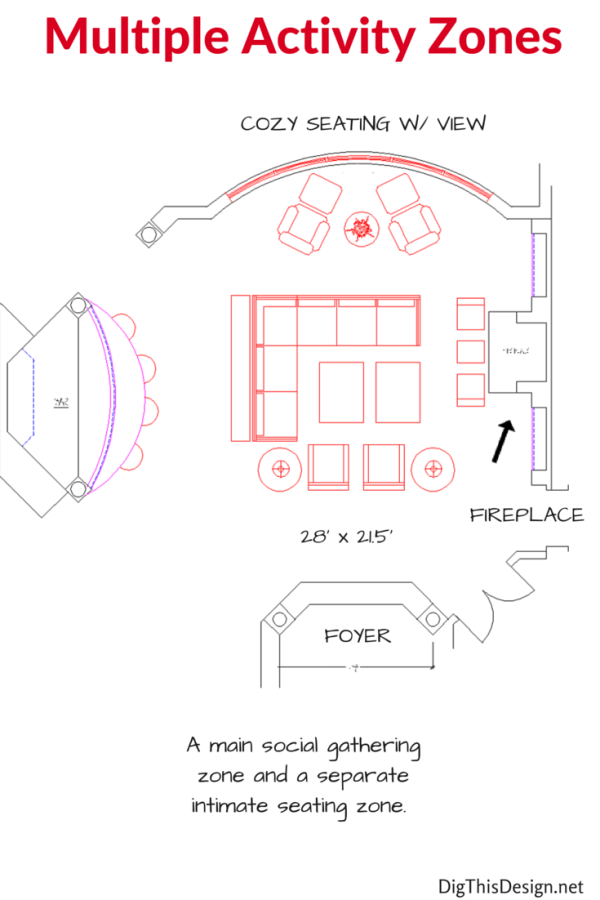 The single grouping is for large entertaining, offering a view to both focal points. This layout requires a large cocktail table, so I did this using 9 glass bunching tables that reflect the view of the water from outside. I love to bring the outside inside in my designs.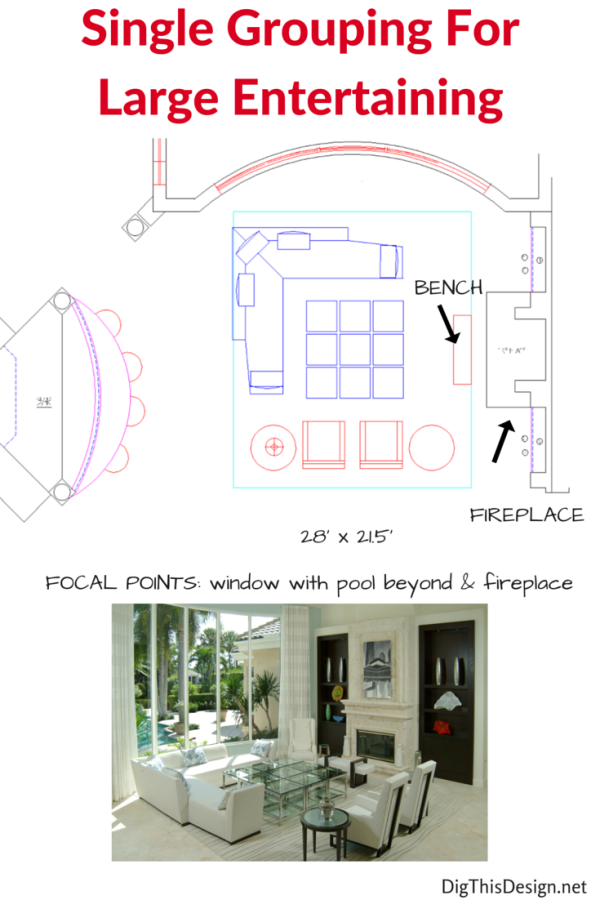 The double sofa is a dramatic design and will definitely need a large room to accommodate it. This room is big enough to be able to do it in two different directions depending on the views you would prefer. This really does divide the room into two different entertaining zones, which would work well for entertaining large groups.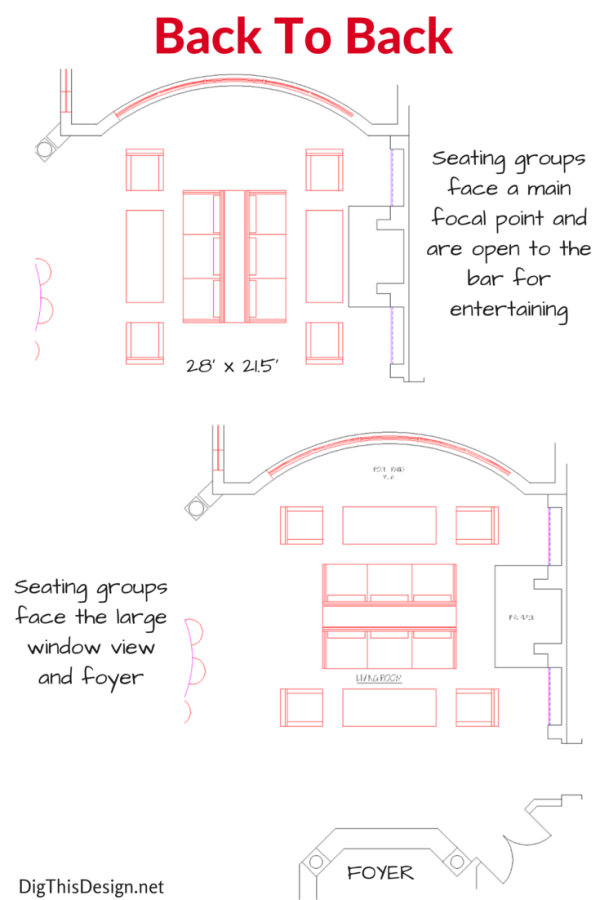 The exercise of laying out your furniture options first will really help you to design a space that will perfectly fit you and your family's needs the best! Use this infographic for living room furniture space planning cheat sheet. These are general guidelines to create an ergonomic and well-balanced living room space.
(Click here for the full size)
I understand how stressful the many decisions involved in an interior design project can be. You may need someone to guide you, help to explain all those choices, and point you in the right direction. I'm available for consultation via Skype for your interior design project, no matter the size. Our virtual session will include a document detailing everything discussed. Feel free to contact me prior to setting up a consultation.
https://digthisdesign.net/wp-content/uploads/2016/01/Layout-2.png
1102
735
Patricia Davis Brown
https://digthisdesign.net/wp-content/uploads/2022/11/OLD_DigThisDesign_logo-300x225.png
Patricia Davis Brown
2016-01-11 04:41:43
2020-06-13 14:26:07
How to Design a Furniture Layout For a Large Living Room