Due to the popularity of the open kitchen concept, kitchens today have evolved to become the control center of our homes. From sharing meals to children's homework, it has become a multi-functional and dynamic space. It is important to think about your family's lifestyle before designing your new kitchen. You want to make sure you design a space for each function so that the kitchen fits your needs.
When designing a kitchen layout best suited for your lifestyle, I recommend breaking down a kitchen design into zones of activities:
Designing the Cleanup Zone
The cleanup zone would be your main sink area. There are must-haves that everyone needs at a well-designed cleanup zone.
Sink
Dishwasher
Recycle trash
Soap dispenser
Garbage disposal
Counter space
Questions to consider when designing your cleanup are:
What's your view when working at your sink?
The window view is a popular choice because the window space is open and free of upper cabinetry and allows for human ergonomics (head clearance) when leaning over your sink. If the view out of the window is scenic, then it makes for a nice spot to work at. Typically this location would put you close to wall cabinets giving you a convenient space for dish storage. Having ample lighting without shadows is a must at the sink. Many people make the mistake of designing one recessed fixture light over the kitchen sink, which will create a large scallop on the wall, making annoying shadows and insufficient lighting while you work. It is important to create even lighting across this space. For more in-depth detail on lighting a counter space evenly, go to my post "How to Light a Vanity Correctly".
Sink facing the wall, you will need to make sure to design space for head clearance. It is recommended to have 30-inches from countertop to the bottom of the wall cabinet. By increasing the space between the countertop and upper cabinet you are creating a large backsplash. You should take advantage of this detail be designing a decorative backsplash, possibly out of tile, to create a beautiful focal point to your kitchen.
Another design idea is to reduce the depth of the wall cabinet above the sink to 9-inche deep, allowing for head clearance. This also creates an attractive molding detail and helps to eliminate unsightly seams in your molding creating a natural joint instead of a forced one, which never looks good.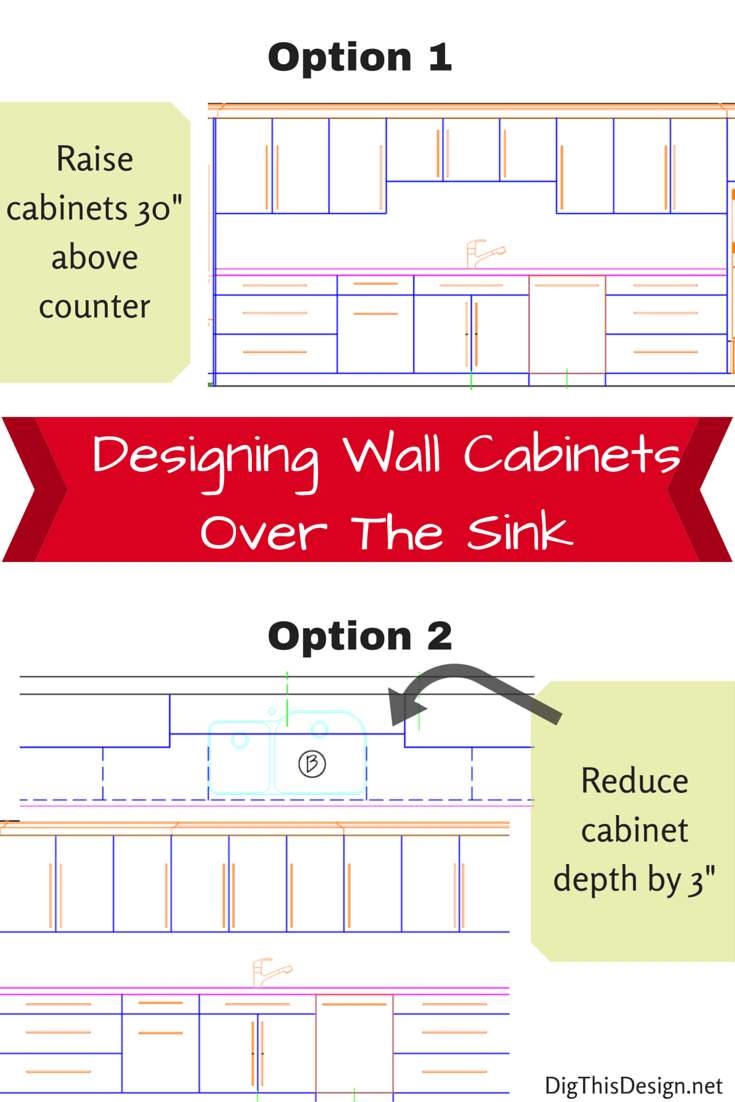 To eliminate wall cabinets all together is a creative approach, but be very careful in doing this as a DIYer without a professionals help. There are transitions of materials that become very tricky and your project could take on an amateur look if not done right.
Island/Peninsula sink is a good choice for those that want to work at their sink, but still be part of the party, so to speak. This is a very social location, but you want to make sure you have enough room to have an efficient cleanup zone. To get more details on sink island design, see my free downloadable guide, A Guide to Formulating the Perfect Sized Kitchen Island. This guide will give you a quick formula to determine if your island would be large enough to accommodate a cleanup zone. It will also give design tips on designing a raised seating area that would hide the cleanup zone from the view of the adjacent room.
There are so many sinks to choose from today, from finishes to the different ways to mount your sink. Everyone is familiar with under-mount and over-mount sinks and single bowl and double bowl options, but did you know about multi-functional sinks? They are the latest and the greatest thing since sliced bread! Basically, they are designed to add inserts like cutting boards, knife holders and colanders. They are built to prep your meal and clean up all in one.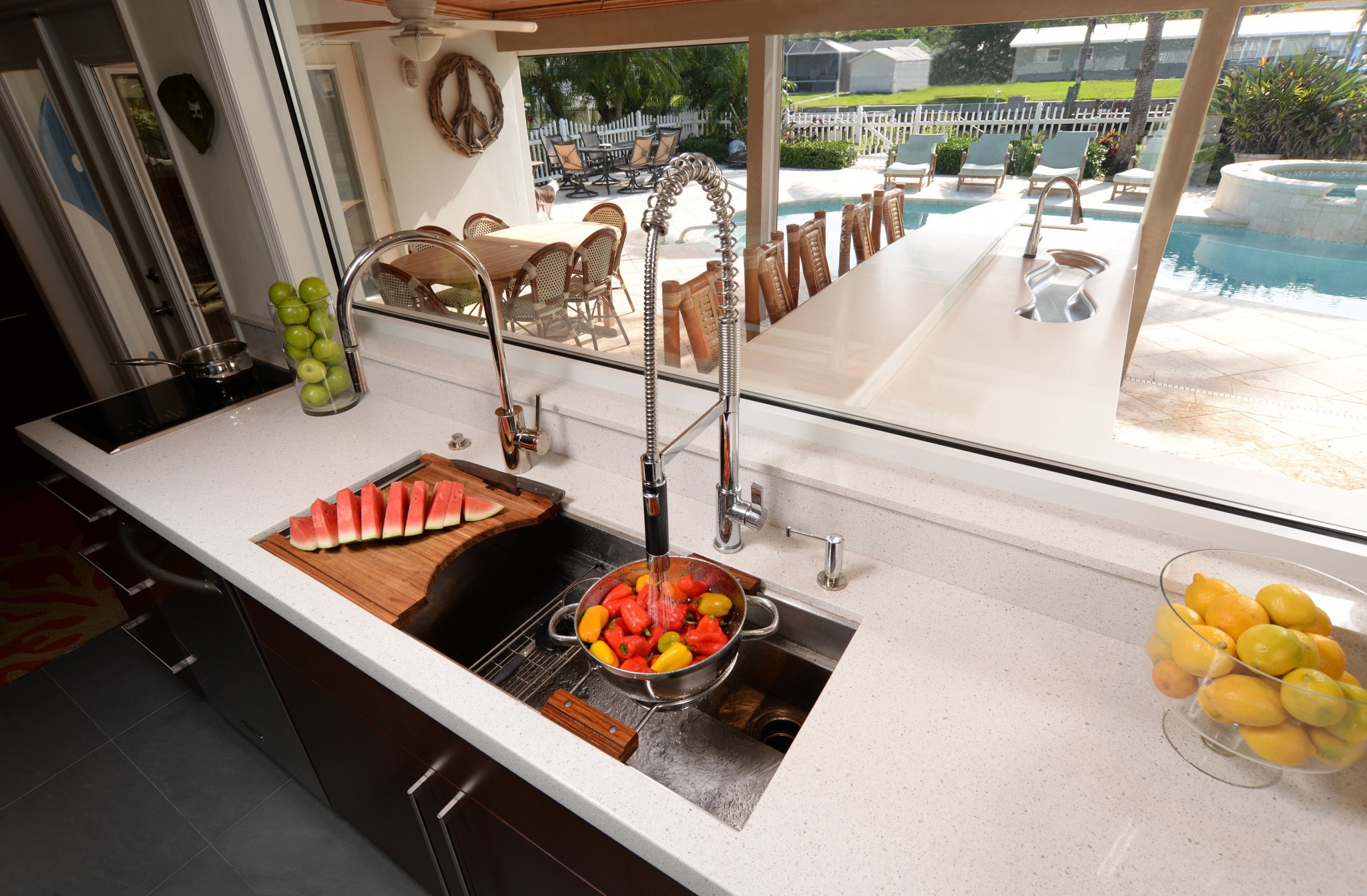 Accessorizing the sink with the two burner induction cook top is a marriage made in heaven! No more having to carry a pasta pot full of water over to the sink, it's all at your finger tips.
I hope this post gives you a deeper look at what to consider for your clean up zone before taking the plunge to remodel or update your kitchen. I want to enable you to create the space of your dreams that fits your lifestyle and budget, so I'm growing my collection of interior design planning guides and tips. All it takes is well thought out design and planning. Please leave a comment if you are curious about more design details or are interested in a different topic about designing your home.
I understand how stressful an interior design project can be. There are many decisions to be made and kitchens can be tricky rooms to design. You may need someone to guide you, help to explain all those choices, and point you in the right direction. I'm available for consultation via Skype for your interior design project, no matter the size. Our virtual session will include a document detailing everything discussed. Feel free to contact me prior to setting up a consultation.
Share This Story, Choose Your Platform!