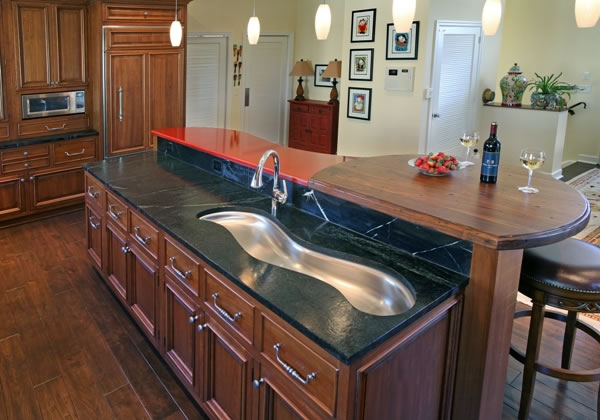 We'd like to welcome you to view and read our own Patricia Davis Brown's articles at Relaxed Remodeler where she will be a featured writer using her vast knowledge in the interior design world, specifically bathroom and kitchen, twice monthly.  Here are some of her articles for your reading pleasure
4 Work Zones To Make Your Kitchen The Heart Of Your Home
The latest kitchens no longer rely on the famous "kitchen triangle" for maximum functionality. Patricia Davis Brown shows you how clean up, prep, seating and communications zones can truly transform your kitchen into the heart of your home.
The days of the old-fashioned kitchen triangle design have diminished like the horse and buggy with the introduction of the automobile. Kitchens of today are open–and in many cases larger than they were in years past. Most of the kitchen remodels I do call for the removal of a wall, which opens up the kitchen to an adjacent space. Kitchens are truly designed to be the heart of the home. We don't just cook family dinners in them–we do homework projects with the kids and entertain our party guests. Many kitchens now have a computer where recipes are stored and grocery lists compiled. Your new kitchen should be planned to fit your family's lifestyle.
2 Quick Ways To Snip Years Off Your Old Kitchen
These "nip tuck" remodeling solutions from Patricia Davis Brown are a quick way to update your aging kitchen. You can use them to tide you over when you lack the budget for a full kitchen redesign.
The years take a toll on the most used room of your house, your kitchen. Unfortunately, the wear and tear may become painfully noticeable at a time when you can least afford to rejuvenate your "old friend."
Top Off Your Cabinets With The Right Molding
Detail matters. National Award winning interior designer, Patricia Davis Brown walks you through the art of designing the perfect molding application to give the finishing touch to your cabinetry.
One of my biggest pet peeves is when an installer slaps crown molding on top of nearly completed cabinetry and says, "Done!" The molding is the finishing touch, much like the perfect pair of shoes for the right outfit; the wrong pair just ruins everything. So, let's talk about choosing the right molding and how it relates to the style of the cabinet box.
Mix Counter Top Materials For Color-Outside-The-Lines Design Freedom
Have you been too busy contemplating your new kitchen cabinetry to put serious thought into the counter tops? Using two or more different counter top materials, a professional design consultant can create a truly unique look.
Kitchen-remodeling consumers seem to get so wrapped up in cabinetry that they sometimes forget the icing on the cake–the counter tops. The best way to make your new kitchen exceptional is to take advantage of the diversity of materials offered for today's counter tops.