Cleaning cast iron cookware does require a few steps of extra care before storing to preserve its functionality and maintain its seasoned finish. If I use my cast iron pans for heavy duty cooking when entertaining, there is bound to be a stuck-on mess left behind. In this post, I'm sharing my method for cleaning my cast iron pots and pans as well as a cleaning gadget that made my method easier. I got a stainless steel chainmail scrubber from Amazon. I really like that this is a multi-purpose tool because it can also be used to clean glass without scratching it.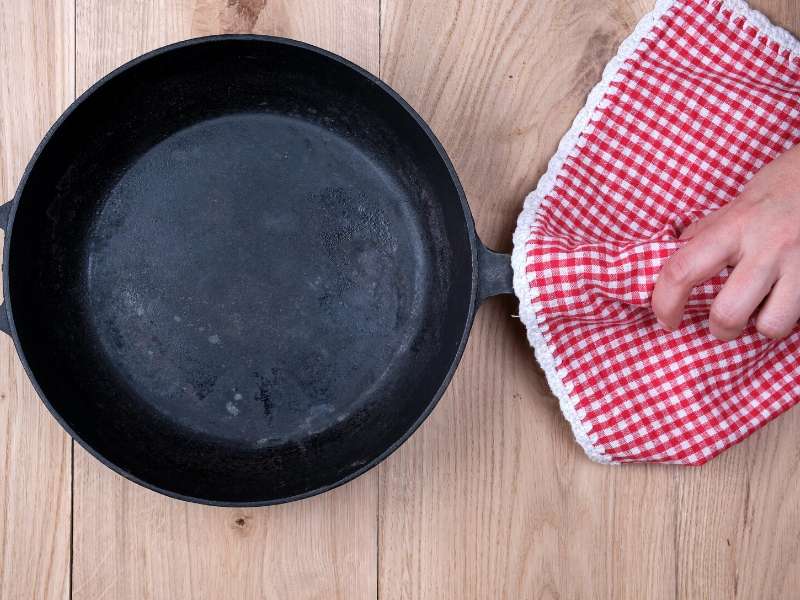 Cleaning a Cast Iron Pan With Salt
This is how I have been cleaning my cast iron cookware when food gets burnt on. While the pan is still warm after cooking, I add a little bit of warm to hot water and about a tablespoon or two of course salt. With a nylon bristle brush, I get to work on scrubbing away the burnt-on food particles. Once I finally have a clean pan, I rinse thoroughly and dry completely with a lint-free cloth or paper towels. At this stage, I look to see whether or not the pan needs to be oiled and baked in the oven for reseasoning. A well seasoned finished should look like black satin. If you see scratches or rough spots, it's not a bad idea to re-season.
Cleaning With Stainless Steel Chainmail
This product piqued my interest because it looks gentle to use and friendly for other cookware material, even glass. Just as with the salt method, I add water to my pan while still warm from use and simply scrub the surface with the chainmail. With this scrubber, I noticed how much less effort was required to remove the debris. I didn't have to use as much force to get my pan clean. The chainmail seems gentle enough to not remove the seasoned finish either, because the next time I used my pan, food wasn't getting stuck.
Cast Iron Cleaning Don'ts!
Do not use steel wool. Steel wool is too harsh on cast iron pans, it will scratch and remove the seasoned finish.
Do not use dish soap. Soap will most definitely remove the seasoned finish and necessary oils left behind from previous use. You can use soap if you are restoring a rusty or especially dirty cast iron pan, but in that scenario, you would already need to season again. For normal day to day use, don't dish soap to clean cast iron.
Do not allow water to sit in the pan. Cast iron will rust very quickly. Although soaking stubborn food particles in water works great for your other pans, it will plague your cast iron with rust and stain whatever surface it sat on. Don't make a big mess for yourself by allowing cast iron to sit in water.
What Oil Is Best For Seasoning Cast Iron?
Although many different types of oils will work just fine for seasoning cast iron, I recommend using flax seed oil. Blogger Sheryl Canter goes deep into detail about why the chemical properties of flax seed oil are best suited for this job.
Lastly, here is a quick and informative video for how to season your pans.
Share This Story, Choose Your Platform!