I think it may be the dream of Mom's everywhere to be able to cook a holiday meal while interacting with the rest of the family. Growing up in bungalow's and 1950's styles kitchens, houses used to be laid out in a very chopped up fashion. Those in the kitchen were often cut off from the run happening in the rest of the house.
Today, Interior Designer, Tania Scardellato has shared a kitchen remodel with us that took a previous outdated design and opened it up into a fresh, modern, open space.
The Challenges of an Open Kitchen Remodel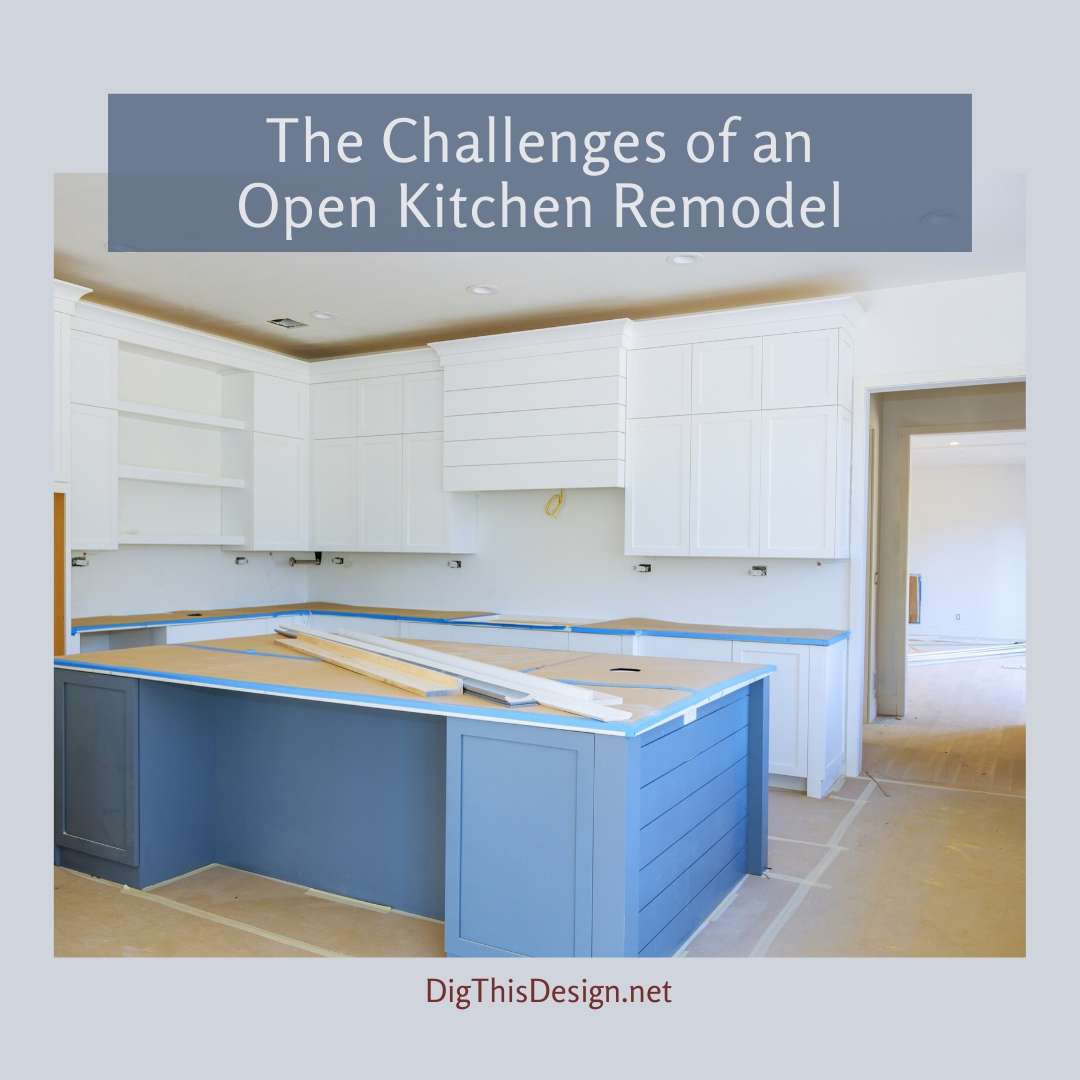 Insufficient lighting, No traffic flow, Height of individual cooks, Low ceilings, Dark, Cluttered, No space for entertaining, Enclosed space, Appliances blocking traffic, Inadequate counter prep space. With so many problems there was only one solution – gut the space including the surrounding areas like the dining room and living rooms to be able to create an open concept.
In this kitchen remodel we eliminated the upper wall cabinets, installed extra windows to bring in the natural light, added plenty of lighting,( for task, general, and decorative aspects) We kept colors warm and light throughout, Created a wall of tall utility cabinets, incorporating appliances and a multitude of functional storage. Designed cabinets to blend into the space.
By removing all existing surrounding walls and landing step a larger footprint was designed to house an oversize island with different heights for each cooks' comfort, thus being able to pass through easily, giving a traffic flow space between 42" to 60".
The Island was designed for better entertainment, prep work and plenty of storage but taking into consideration to NOT over dominate the space and obtrude the line of site. In this kitchen remodel, the use of warm tone materials such as natural walnut is the key element to the space and by adding it to the niche area, it balances the contrast of the light colors and creates a richness and warmth to the space.
Some of the special features
Hidden practical elements added to be very functional yet unobtrusive; ie: garage door to hide all small appliances, a step ladder hidden inside the toe kick, food processor lift, basket tilt at sink area, pull out coffee station. All features require less bending and heavy lifting.
Under mount LED strip lighting at the lunch counter and Niche area, Enhances the area and gives a floating appearance.
Wine service area for easy entertaining, and self-service
Concealed vent system at cook top, is not only practical but enhances the clean line design concept. Because of the low ceiling a large overhead hood would have broken up line of site.
Share This Story, Choose Your Platform!