Chicago, known as the birthplace of the skyscraper, boasts a rich architectural history that has shaped the city's identity. From the iconic skyline to the historic buildings, a Chicago architecture tour is an immersive experience that allows visitors to explore the architectural wonders and learn about the city's architectural heritage. Whether you are a history buff, an architecture enthusiast, or simply curious about the city's remarkable buildings, here's what you can expect from a Chicago architecture tour.
Chicago Architecture Tour – What You Can Expect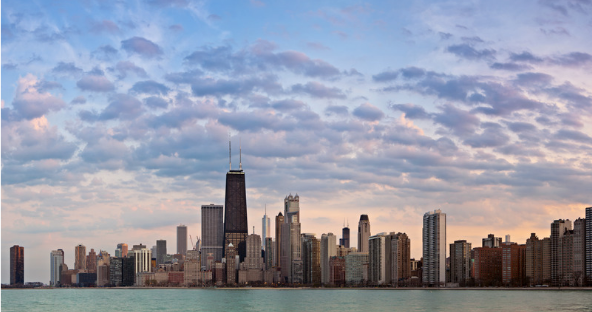 Iconic Skyscrapers and Landmarks
A Chicago architecture tour is incomplete without encountering the city's world-renowned skyscrapers. The tour takes you through the downtown area, where you can marvel at architectural marvels like the Willis Tower (formerly Sears Tower), the John Hancock Center, and the Aon Center. These towering structures showcase innovative designs and engineering feats that have shaped the city's skyline. You'll learn about the architects behind these landmarks and the stories behind their creation, gaining insights into Chicago's role as a global architectural hub.
Historic and Modern Architectural Styles
Chicago's architectural landscape spans a wide range of styles, from historic to contemporary. During the tour, you'll have the opportunity to explore buildings that represent different periods in architectural history. You might visit iconic landmarks like the Tribune Tower, a neo-Gothic masterpiece, or the Rookery Building, which blends Richardsonian Romanesque and Frank Lloyd Wright's Prairie School styles. In contrast, modern architectural gems like the Aqua Tower or the Jay Pritzker Pavilion at Millennium Park showcase cutting-edge designs and the city's commitment to architectural innovation.
Knowledgeable Guides
Chicago architecture tours are led by knowledgeable guides who are passionate about the city's architectural heritage. These guides are often experts in their field, equipped with extensive knowledge about the buildings, their architects, and the historical context. They offer fascinating insights, share intriguing stories, and answer any questions you may have, making the tour both educational and engaging. Their expertise brings the city's architectural wonders to life, allowing you to appreciate the intricate details and significance behind each building.
River and Lake Cruises
One of the most popular ways to experience Chicago's architecture is through river and lake cruises. These boat tours provide a unique vantage point to admire the city's skyline and waterfront buildings. As you sail along the Chicago River or venture out onto Lake Michigan, you'll enjoy breathtaking views of architectural gems from different angles. The cruises also offer a tranquil atmosphere, allowing you to relax and absorb the beauty of the surroundings while the guide provides commentary on the architectural highlights.
Neighborhood Exploration
Beyond the downtown area, Chicago's diverse neighborhoods offer architectural gems waiting to be discovered. Some architecture tours venture into neighborhoods like Lincoln Park, Hyde Park, or Wicker Park, where you can explore residential areas and historic districts. These tours provide a more intimate perspective on Chicago's architecture, allowing you to see how the city's design principles extend beyond the downtown core. You'll find elegant brownstones, beautiful churches, and unique structures that reflect the cultural and architectural diversity of the city.
Conclusion:
A Chicago architecture tour is a captivating journey through the city's architectural heritage, providing a deeper understanding of the buildings that define its skyline and character. From iconic skyscrapers to historic landmarks and hidden gems in neighborhoods, the tour offers a comprehensive view of Chicago's architectural evolution. With knowledgeable guides, river and lake cruises, and a wealth of architectural styles to explore, visitors can expect an immersive and educational experience that will leave them with a newfound appreciation for the city's remarkable architecture. So, whether you're a local or a visitor, be sure to embark on a Chicago architecture tour and witness the magic of this architectural wonderland firsthand.
Other posts you might enjoy:
How Architecture is Inspired and Enhanced by the Natural Environment
A Guide to Select the Best Architecture Firms in NYC
Share This Story, Choose Your Platform!