Homeowners are responsible for the basic household maintenance and upkeep of primary systems that create a safe, healthy, and comfortable environment. It's especially true of the HVAC that usually gets air conditioner repair from professionals. But, troubleshooting and a little maintenance are also important in between those calls.
Often trusted repair techs like those with Excel Heating and Air Conditioning Inc in Franklin, IN, arrive at a service call for an issue that is an easy fix for the homeowner. However, once you learn how to recognize simple problems, it saves time and expense with quick and easy solutions. If you seem to call for air conditioner repair too often, here are great tips for keeping your unit in top working condition.
Air Conditioning Repair Troubleshooting Tips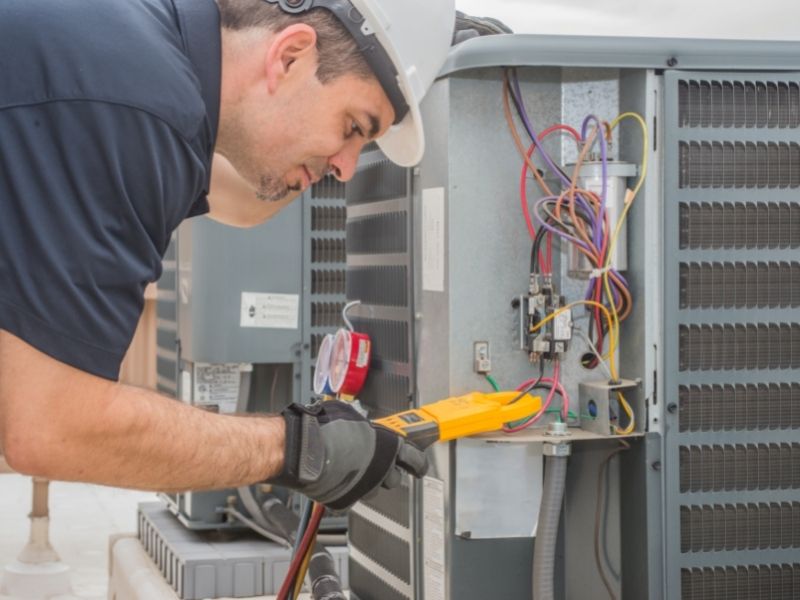 If you have found the ideal Franklin IN Air Conditioning repair service that will perform preventative maintenance for you on a routine basis, it can genuinely give you great peace of mind. Unfortunately, at the slightest sign of a defect, many people call the technician for repairs when the problem could be a straightforward fix without the need for costly service.
There could be an oversight with household upkeep, like a filter has not been changed out or the thermostat set incorrectly. Some other common causes that need troubleshooting include:
Dirty filter
Circuit breakers for the air conditioning unit
Thermostat set inadequately.
Air vent issue
Outdoor unit problem
Once you follow a few steps like each of these but without a resolution, it is a good idea to contact your professional provider to come for an inspection and necessary repairs. Learn a few more common issues at https://www.energy.gov/energysaver/common-air-conditioner-problems/. Let us look at each of these more closely.
1. Dirty air filters suffocate your unit.
A clogged or dirty air filter has the potential for reducing the airflow to the system, "suffocating" it. That causes the unit to work much harder and creates a load of problems for the system, ultimately leading to its failure. The air filter needs changing at least every three months or sooner depending on usage, but, of course, you should check them regularly to ensure their clog-free. Some problems clogs will create:
Ice accumulating on lines (refrigerant)
Air vents with low airflow
Air conditioners develop leakage.
Evaporator coil freezing
Energy bills excessive
Cooling becoming inadequate – especially challenges reaching temp set.
Failure of the system
2. Thermostats must be working perfectly.
There are many instances where homeowners have difficulties recognizing whether a thermostat is on "cool" or "heat," especially when the season has just changed. On some, like the older model thermostats, it's challenging to read or see the indicator. Of course, it's important to use the appropriate setting for the temperature. The problems this creates include:
The air conditioning does not turn on.
You feel warm air coming from the vents.
3. Circuit breaker for air conditioner repair.
If you have problems with the air conditioner not working, the circuit breakers might be tripped. You will need to check the electric panel to see if the breakers are pushed to the working position. If it is tripped, push it over to "on" and then retry the unit. If it automatically trips again, there could be a more significant electrical issue. The, it's time to call a professional. Next, do not turn the breaker back on until the air conditioner repairs are complete.
4. Look at the outdoor unit for cleanliness.
If your system outside is dirty or full of debris, it causes several problems for the air conditioner. Some of those problems are listed below.
Elevated utility bills
Cooking is erratic.
Vents expel warm air.
You must call for repairs regularly.
It's crucial to ensure that the outside condenser is free of dirt and debris using a water hose with a gentle flow. If it has not had a cleaning or the magnitude is too great, it's better to contact a professional who can employ a much deeper service. In addition, always make sure to keep obstacles or foliage at least two feet from the condenser.
5. Air vents must be clear at all times.
You must keep all vents clear and open even if the rooms are not in use. Take a walk around your house to ensure nothing is over the top of the registers, including furniture, curtains, throw rugs, or carpets. This causes several problems that include the following:
(Refrigerant) lines develop ice.
Cooling becomes a challenge for the unit.
The evaporator coil freezes over.
Air condition begins to leak.
The compressor is damaged.
Issues develop with the blower motor.
Ducts leaking.
In conclusion.
The goal of service professionals in Franklin, IN, is to prevent homeowners from unnecessary repair costs by giving them an idea of what to look for in the way of simple fixes. However, it isn't always easy. Sometimes DIY is not the answer with the potential to create a bigger problem in a complex system. Click here for a few tips on DIY AC repairs.
Do not attempt to take on repairs without the skills, knowledge, or appropriate tools. In most cases, you must reach out for assistance. When any of these troubleshooting tips don't work, contact your service provider with details about what you are experiencing. If you have any questions or suggestions, we always love to hear from you in the comments below. Also below are links to more informative articles about ALL things DESIGN for your home or business.
Images Courtesy of Canva.
Other Posts You Might Enjoy:
3 Benefits of Agee's AC Repair Service Company in Schertz Texas
6 Benefits of Virginia Beach Air Conditioning Repair
Tips For Fixing and Repairing Your Air Ducts and Air Conditioning
Share This Story, Choose Your Platform!