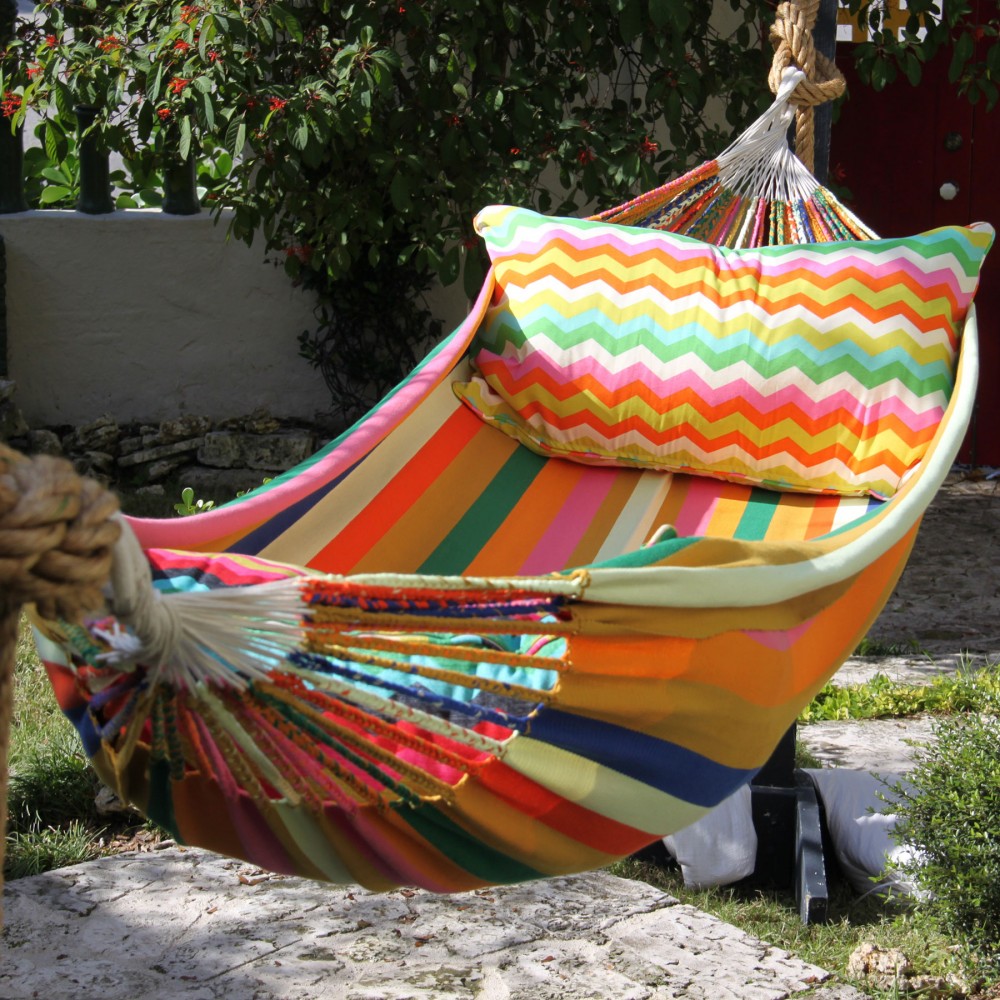 Sustainability is a topic that covers multiple aspects. I met with Alicia Kossic at the Maison & Objet Americas show in Miami, and for her, sustainability means preserving cultural heritage, empowering women with their craft as an economic resource, and creating long-lasting, quality, "green" products. Alicia's brand carries bags, cuffs, hats, belts, and even vintage clothing but also beautiful items for the home like blankets and hammocks. Everything is made by hand by select cultures in order to preserve their ancestral craft style.
When Alicia began working with ancestral crafts, she noticed a few big setbacks. The Wayuu women making mochilas (bags) were receiving low profits for their time-consuming labor and as a direct cause they had little choice but to purchase low-quality synthetic materials, like acrylic blends, because of its cheaper price. Alicia's solution to stop this cycle was to offer the Wayuu women a no interest loan so they could afford better quality natural materials. This ensured that Alicia's customers would have the highest quality end product that could be washed and dried simply with water and sunlight. For the Wayuu women of northern Colombia, this meant sustainability of their income and heritage.
Each half stitch crochet bag represents a repository of their cultural identity, with each color holding a meaning. Black, for example, is a color you won't find too often in these works because it holds a negative meaning. Smaller versions of the tote bags are often made to pass down the methods and traditions to the younger generations.
Instead of resorting to acrylic blends, 100% cotton is used in bags, hammocks, and pillows. Their high-quality weaves and natural fibers allow for simple cleaning. It can be as easy as washing in plain water and hanging out to dry; no chemicals or electricity needed for this eco-friendly product. This simple care technique can also be used on Alicia's Panama hats and hand stitched Pitiado belts.
I love Alicia's style and brand mission. For more on her sustainable products, check out her website here, while you're there check out her vintage clothing and leather cuff collections as well.
About the author:
Stephanie Davis is ALL about design. She is a student of interior design and apprentice at Patricia Davis Brown Designs, a firm that allows creative souls to thrive and think outside the box. When not completely immersed in all things design, Stephanie enjoys making realist style art, urban farming, learning about sustainable living methods, and exploring cities and woodlands.
Photography by Patricia Davis Brown Designs, LLC.
https://digthisdesign.net/wp-content/uploads/2015/05/3_2.jpg
1000
1000
Stephanie Davis
http://development.digthisdesign.net/wp-content/uploads/2016/11/OLD_DigThisDesign_logo.jpg
Stephanie Davis
2015-05-26 06:16:45
2020-08-03 18:49:28
Woven Goods and Accessories By Alicia Kossick Empowering Women, Native Culture, and Sustainability