WELLBORN CABINET
As a kitchen and bath designer, I am always on the lookout for cabinet manufacturers that can offer good quality for the right price and offer whole house solutions. Today I will take you through the steps of selecting a cabinet company when building a new home or renovating an older property. I have selected Wellborn Cabinet, Inc. to review today; let us see if this company has what it takes to get our business.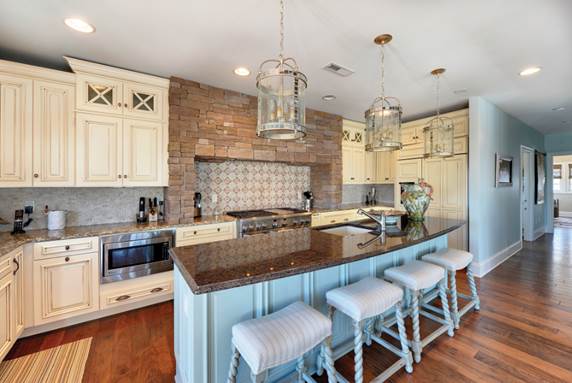 Kitchen by Wellborn Cabinet, Inc.
Whole House Solutions
It doesn't matter if I am working with a client with a large, medium or small budget, most clients have a pecking order of what rooms they want to spend the most money in, which is usually the kitchen or the master bathroom. So you need a company that offers custom cabinetry for those rooms and possibly a less expensive semi-custom option for rooms such as the laundry room. Other rooms such as home office and closet systems are important to my clients. I think a company that offers a menu of whole house solutions is a great choice to work with.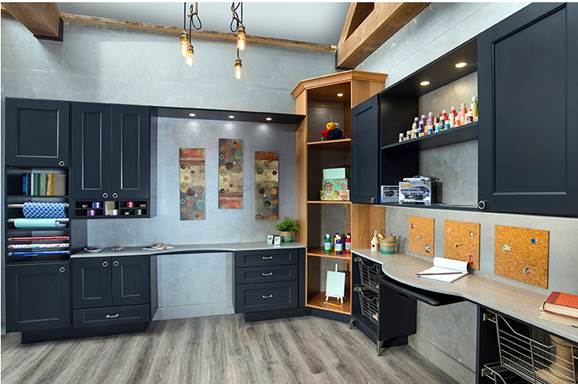 Wellborn Cabinet, Inc. Offers Smart Solutions for the whole home
I am a kitchen and bath designer who has been practicing in the industry for 30 years and know how important it is in selecting the right company when purchasing cabinetry for your home. I was first impressed with Wellborn's vision statement – The Wellborn Family is committed to being the most valued provider of permanent home cabinetry designed for a lifetime of gracious living.
What that means to me is they are proud of the quality product they produce and expect it to last a lifetime. To back this up they offer a lifetime warranty on their cabinetry.
Wellborn's brands:
Estate Collection
Premier Series
Select Series
Elegant Bath Collection
Wellborn closets
Home Concepts
Full Access Frameless Line – Aspire Cabinetry – due to launch in 2017
Variety
Having choices is important to me when I am designing people's homes. The finishes they select is personal to them and they need to be able to have a large palette of options to choose from.
Wellborn offers over 100,000 door styles, species and finish combinations, along with beautiful overlay and inset door offerings with a vast selection of stains and paints with glazes and finish technique options.
They offer several options in their door materials:
Cherry
Character Cherry
Maple
Character Maple
Oak
Hickory
Medium Density Fiberboard (for a perfect paint finish)
Laminate
Thermofoil
Custom Offerings
I was so impressed with their Colorinspire – program that offers the consumer thousands of paint color options for their cabinetry from trusted brands such as, Benjamin Moore, Sherman Williams, and Valspar.
You draw it and we will make it philosophy is a must with me the designer and that is their claim.
Smart Design
In today's world, our homes need to be designed to accommodate all of our smart devices and any cabinet company I bring to the table must be able to integrate this into their cabinetry. Wellborn offers built-in electronic charging stations in their cabinetry. They also have technical design solutions for all people such as cabinet shelves that lower to the countertop and lift back up with a push of a button, giving complete accessibility to all people. Apply Touch and Open Technology to your drawers and doors, along with soft close features.
Competitive Pricing
Whether you are building an affordable first home or the home of your dreams, Wellborn Cabinet has options that allow you to create exactly what you want in every room of your home.
Wellborn Cabinetry is family owned and operated. Their product is made in America and offers whole house solutions while giving the consumer the flexibility through customized offerings to create the home they envisioned.
Dream Kitchen Makeover Contest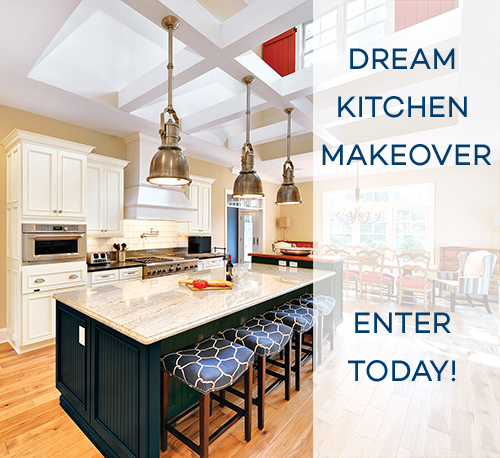 Wellborn Cabinet, Inc., is offering an opportunity to win your dream kitchen makeover. Enter the Dream Kitchen Makeover giveaway for a chance to win your Dream Kitchen!
This post is sponsored by Wellborn Cabinet, Inc. in conjunction with Blog Meets Brand and I have been compensated for my participation. All opinions are my own.
Share This Story, Choose Your Platform!