This post is sponsored by American Standard, who has provided me with the product. All reviews and opinions are my own.
As a designer, I like designing universal design projects because it gives all people access to their spaces. Everyone should have the right to safely move around their home or work area whether they are confined to a wheelchair or have any physical impairments. The challenge to me with this type of design is finding not only the right products that allow this to happen but finding the right products that look great too. I have searched many products, from ones strictly made for universal design to products that are not but offer the qualities that might work well if designed correctly into the room. My focus, as an interior designer, is to create a functional room that reflects the client's aesthetic personality, not hospital-like.
Universal Design "Style"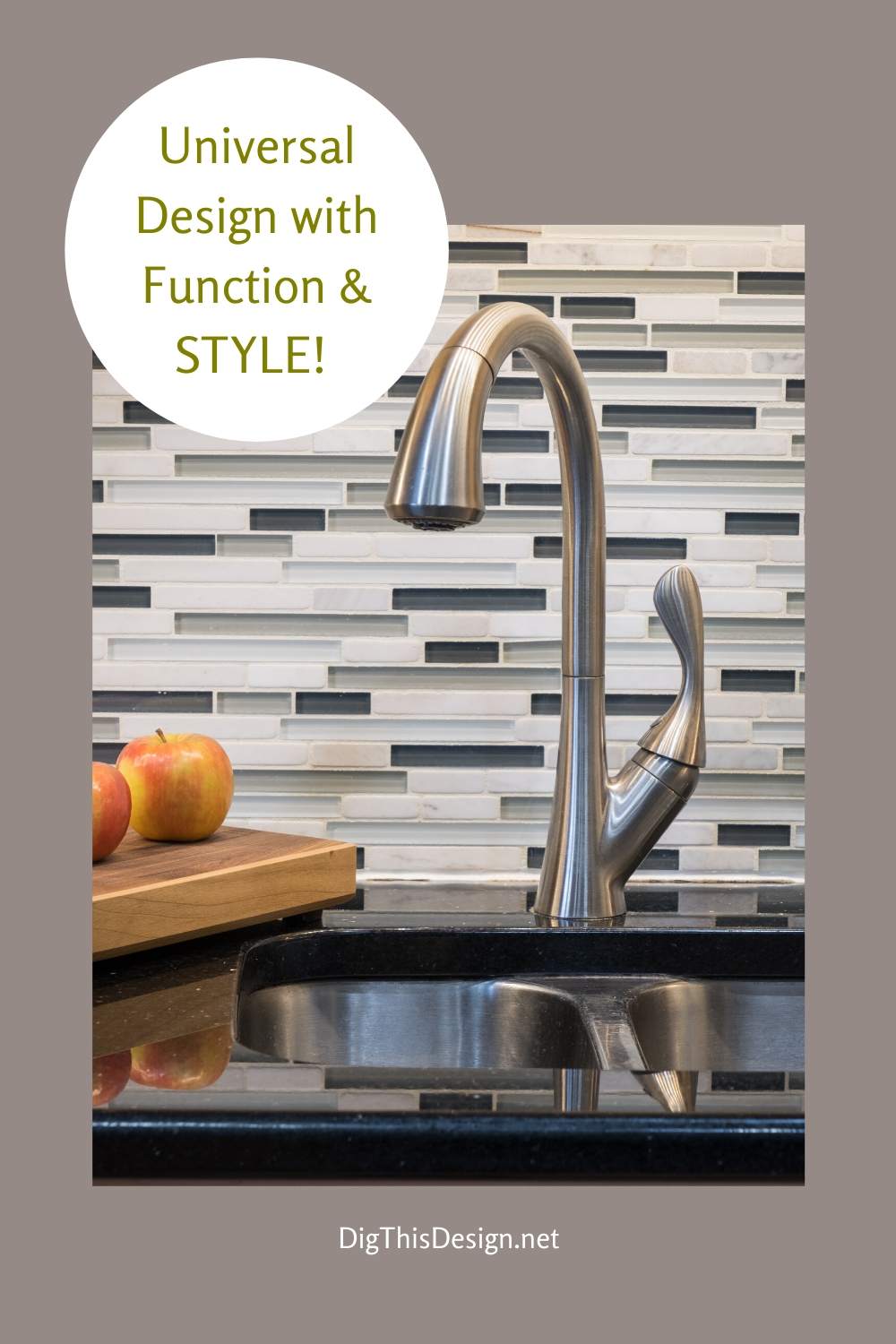 Wide Doorways
The reason this is so near and dear to my heart is that my son, Patrick is confined to a wheelchair. Patrick's room and bathroom needed to be designed with proper clearances for his wheelchair while giving ample room for a caregiver to administer care to him in a safe manner. It also needed to be styled tastefully for a young man in his twenties. Selecting wide doorways is a must for wheelchairs to be able to swing into and out of rooms. I like to use 42″ pocketing doors that pocket into the wall allowing for a total clear door opening.
Blending Equipment Into the Color Palette
His bedroom needed to have his personality shining through and I did this in warm masculine tones. The Hoyer lift blends into this color scheme well and works to safely transfer Patrick from bed to wheelchair with the help of a caregiver.
American Standard Offers Bathroom Solutions for Universal Design
The most critical part of designing Patrick's bedroom suite was designing his universal bathroom. One of my go-to companies that I think have well-designed products that fit great into universal design projects is American Standard.
It is so important when designing a universal bathroom to have total clear floor space that will allow the wheelchair to turn around in a full radius. The Ravenna Wall-Mount Sink is the perfect choice for this and was what I picked for Patrick's bathroom. Along with a wall hung vanity, the faucet needs to be selected carefully for the caregiving activities that will need to be performed here. The Serin, with a high-arc faucet, fit the ticket for Patrick's needs to be met.

Just to share more with you about American Standard's Products, check out my new Beale kitchen faucet by American Standard, just another example of a well-designed product.
This is a company that truly offers an array of great products to meet my design projects' needs!
Share This Story, Choose Your Platform!