Coffee tables are an attractive and functional part of living room decor. However, they are not the right piece of furniture for everyone. Many living rooms could benefit by replacing the coffee table with an attractive, durable leather ottoman. Here are a few stylish and practical ways to make the switch.
Ways to Style with An Ottoman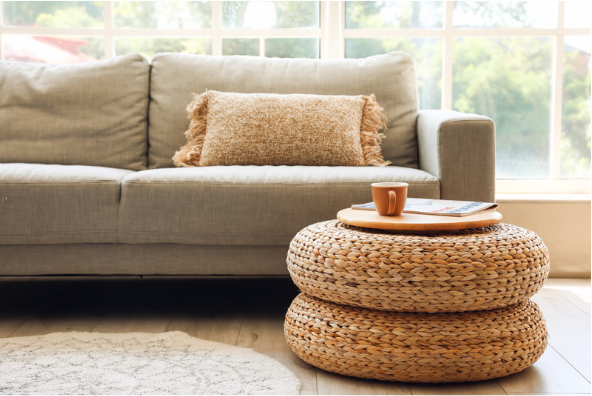 Layer Your Ottoman With Soft Fabrics
Soft fabrics from throws or a hand-knit blanket offer a perfect contrast when draped over a smooth leather ottoman. Layering them adds even more texture, creating visual interest that is much more appealing than a plain coffee table. In addition, this is an excellent place to incorporate some of the bright, warm colors that work well in mid-century modern design.
Use Contrasting Trays
A decorative tray makes an excellent topper for a mid-century modern ottoman. You have several options if you want to accessorize with a tray. For example, a sleek wooden tray with natural elements is an excellent complement to a leather ottoman. If that doesn't sound appealing, consider a polished metal tray with a couple of your favorite photos.
When selecting trays as ottoman toppers, look for pieces that don't cover the entire surface. This ensures you have enough usable "table" space, but you can still use it as a footstool if desired. Handles are another nice feature that makes it easy to remove the tray if needed.
Incorporate Storage Underneath
If you decide on an ottoman with legs, make the most of the space underneath it. A slim basket or bin can slide under the furniture and serve as a convenient and attractive place to store frequently used items. A few ideas for the types of times that work well in under-ottoman baskets include books, magazines, craft projects, and pet toys.
Add Layers and Height
Instead of letting your leather ottoman stay flat, add arrangements that encourage the eyes to wander. A few examples include:
Create a stack of your favorite books
Arrange several different plants
Set out a grouping of candles
Use a basket to corral remotes and chargers
Place a vase with flowers in the center
It is also helpful to remember that any arrangements you put together can change. For example, you might have some simple flowers in the summer and switch them out for candles during colder months.
Combine Both for a Unique Look
Whoever says you must choose one look and stick with it is wrong. Combining a small low table with a small leather ottoman makes for an interesting and practical coffee table arrangement. For example, a small square ottoman paired with a low drum accent table serves as a place to prop your feet and rest your drink. You can also pair multiple ottomans to create an attractive grouping. If you decide to go this route, choose pieces from the same design style that complement each other.
Poly & Bark knows that an attractive leather ottoman can add visual interest to your seating area while also serving as a functional piece of furniture. Shop their online store to find the perfect ottoman for your space.
Other posts you might enjoy:
How to Make Your Living Roon Look Luxurious
5 Tips to Create a Welcoming Home Environment
Share This Story, Choose Your Platform!