When it comes to window treatments, you have a wide range of options available. From blinds and shades to shutters and curtains, there is something for everyone. One of the most popular choices is custom window treatments. These are tailor-made specifically for your windows, allowing you to choose from styles, colors, fabrics, and more that perfectly match your home's decor and design.
6 Reasons to Choose Custom Window Treatments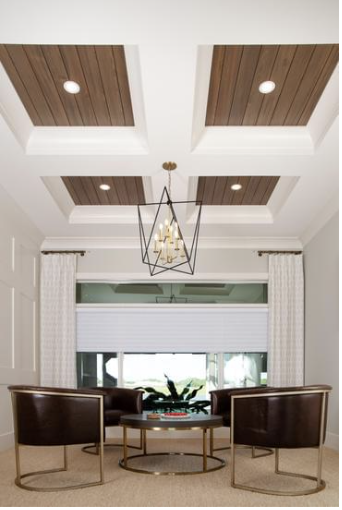 Design by Patricia Davis Brown Designs
In this article, we will outline the many benefits of custom ones over readymade ones.
1. They Fit Your Window Perfectly
They are made to measure, ensuring that they fit perfectly into your space. This means that you won't have to worry about them being too small or too large.
Ready-made window treatments are often one-size-fits-all, meaning that they may not fit correctly or look as great in your home. This isn't an issue with custom window treatments, as they are made to your exact specifications. Some are even made with adjustable fit systems so that you can ensure a perfect fit every time.
2. Personalization
They are designed to match your home's decor and there are many house window types that need custom fitting. With custom ones, you can choose the fabric, color, pattern, and design that best reflects your taste and preference. Ready-made window treatments are limited in their selection of styles, fabrics, and colors. This makes it difficult to find something that truly matches the look and feel of your home.
3. Custom Window Treatments Are Made With Quality Materials
They are made with higher quality materials than readymade ones. This ensures that they will last longer and look better for years to come. Ready-made window treatments may be made from lower-quality materials, meaning that they won't stand the test of time.
4. Add Value with Custom Window Treatments
They can add value to your home. Since they are made to the highest standards, they will look great and last for years. This adds value to your home and makes it more attractive to potential buyers when you decide to sell in the future. From a financial standpoint, this can be a great investment.
5. They Add a Professional Appearance
The finished product looks more professional than readymade ones. They are made with precision and attention to detail, ensuring that they look perfect when installed. This gives your windows a polished, sophisticated look that you won't get with readymade window treatments.
6. Professional Expertise
Designed under the guidance of a professional, so you can count on them to provide you with expert advice throughout the process. This is not something that you get when purchasing readymade window treatments, as there is no one to consult for help or provide assistance if needed.
Conclusion on Custom Window Treatments
Custom window treatments offer many benefits over readymade ones. It's no wonder that so many people are turning to custom window treatments for their homes. A simple consultation with a professional such as Bumble Bee Blinds can help bring your windows to life. So, make sure to consider the advantages of it and see how they can work for you!
Other Posts You Might Enjoy
6 Factors – When Choosing Window Blinds
Professional Window Cleaners – Why Hire Them?
The Benefits of Draperies in Your Home
Share This Story, Choose Your Platform!