There are lot's of tricks to the trade when it comes to making a room look bigger. What excites me about remodeling is being able to take a space and transform it into looking like a brand new property. The beauty of a well done remodel is never knowing the space had ever been touched, like it was originally designed this way. This post is going to give you the tips you will need to know to visually increase a ceiling height without actually going through the expense of raising the ceiling. The EHow video below speaks about ways to do this.
ADD MOLDING & FRESH PAINT
Molding gives you a BIG bang for your buck. Many older homes used small base molding and it's popular in newer construction to have larger base of around 5-inches high. Updating this detail helps to update the look of your home. Wrapped openings show all the imperfections in your walls. By adding casing at all doors and windows eliminates the flaws of the walls and gives a crisp fresh look. Crown molding is the cherry on top that adds the finishing touch while creating an optical illusion of a higher ceiling. Painting the ceiling and moldings white while doing the walls in a different hue is a refreshing statement to the design.
Design by Patricia Davis Brown
REPLACE POPCORN CEILING
Popcorn ceilings were popular in the 70's and 80's, not sure why, but not so much in today's modern décor. Their bumpy facade create a heaviness to the ceiling, visually decreasing the height of the room. Removing this out of date material and adding a smooth ceiling is a good face lift to an old space.
Tips to removing old popcorn ceilings:
Asbestos is a toxin that was used in popcorn ceilings in homes built prior to the 1980's and was found to cause lung disease and cancer. Before considering removing this material I would recommend hiring a contractor to remove a small amount to be sent to an accredited lab for asbestos testing. If the test is positive for asbestos you will need to contact a company that is certified in asbestos removal, an asbestos abatement contractor.
Drywall over popcorn ceilings is a great way to avoid the mess and is a better choice if asbestos is present, leaving the asbestos undisturbed. This might also be the least expensive way to do it because it is less man hours.
Scraping popcorn ceiling is a time consuming project. You would need to remove all furniture from the room and cover all walls and flooring with tape and plastic. Spray water on the popcorn ceiling, about a 5′ by 5′ section and let it soak in, then repeat. You then can take a scrapper and proceed scrapping off all the popcorn. You might be horrified to find a not so pretty ceiling underneath creating more labor to smooth it out.
REMOVE A DROPPED CEILING
Why anyone ever thought dropping a ceiling down made good sense, I'll never understand! This was a popular way to light kitchens in the 60's and 70's. Inside the dropped ceiling were florescent lighting which ultimately gave different shades of lighting due to lamps being replaced at different times, UGLY! Anytime I walk into a remodel with a dropped ceiling I know the first thing I must do to open the space up is remove it. This usually involves a new lighting plan. I love to update bad lighting because it helps me make my new design shine!
BRINGING THE CABINETRY ALL THE WAY TO THE CEILING
When cabinetry stops short of ceiling everything appears to be lower. Increasing the cabinetry to run all the way up to ceiling elongates the room vertically. To do this you would want to stop the cabinetry about 6-inches from the ceiling. The void will allow you to use a two piece molding, I like to call a cornice crown, to scribe up to the ceiling.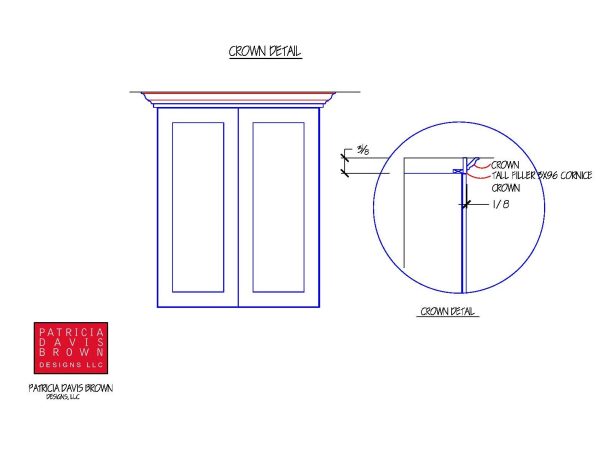 How To Make Stock Cabinetry Look Custom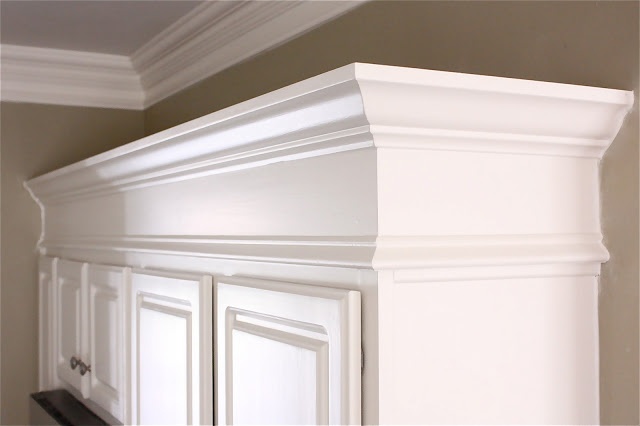 If you do not have it in the budget to increase your cabinetry, you could do it with a soffit and molding. You would want to paint it all the same finish to carry the eye up.
Share This Story, Choose Your Platform!