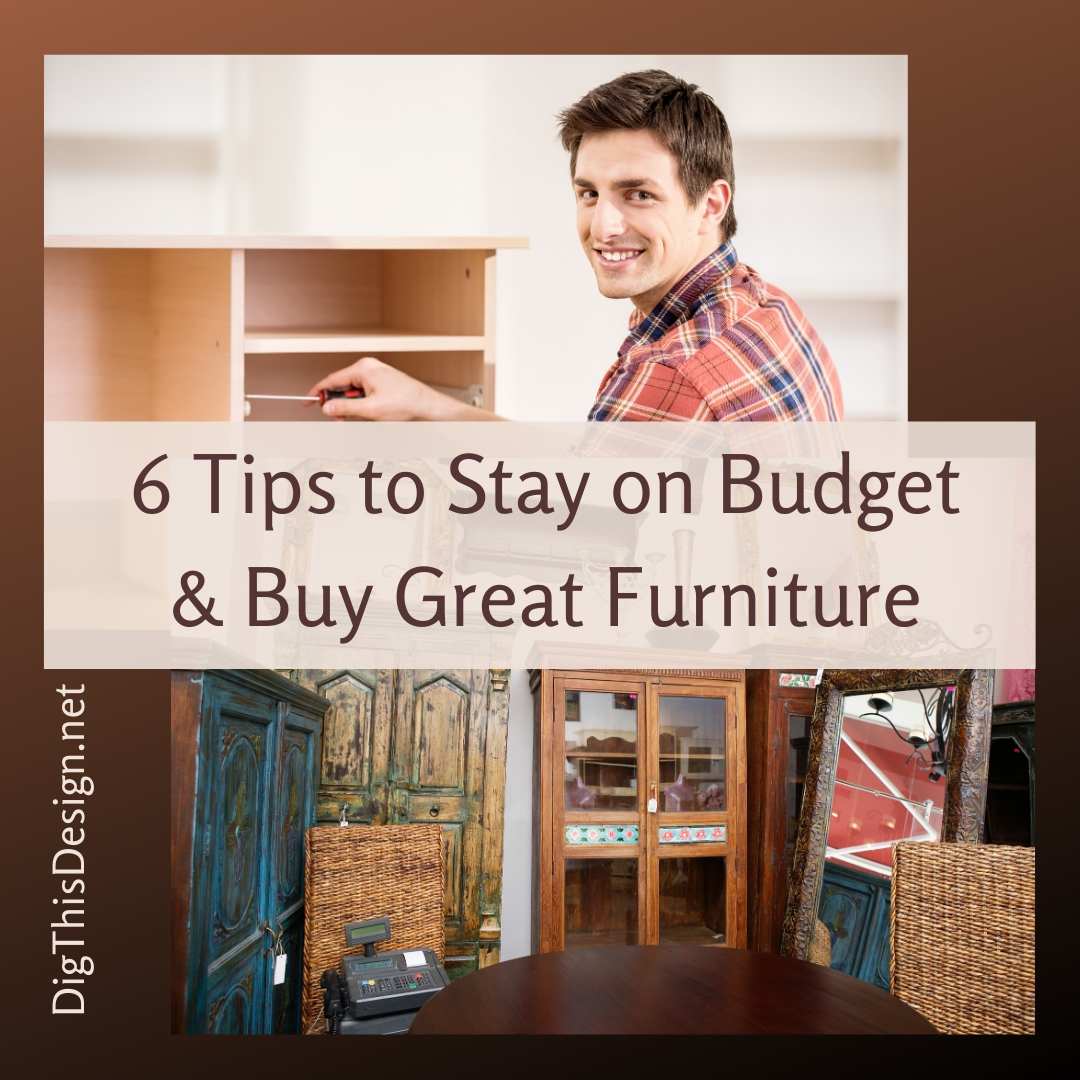 Moving often means you need to furnish your home on a budget. Naturally, furniture can be moved from the old house to the next, but it doesn't always work with the new layout or design. And, when you've just bought a new house, dropping more money on new furniture probably isn't high on your list.
Buying low-budget furniture isn't always the best option because the quality (or lack thereof) means you end up buying new furniture every couple of years. The trick is getting some good quality furniture without paying over the odds for it. It sounds too good to be true but there are some ways to do it.
6 Tips to Stay on Budget & Buy Great Furniture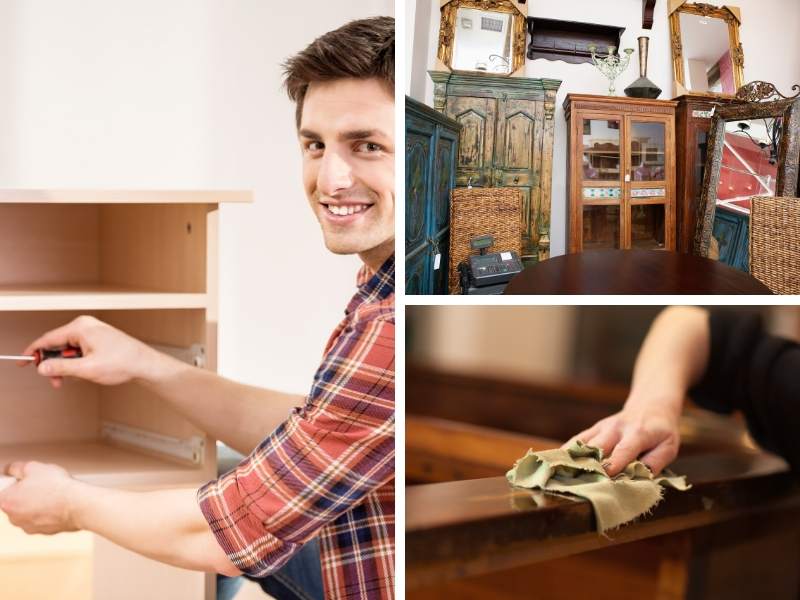 ⎆ Step Out of Your Furniture Comfort Zone
Moving is the perfect time to try a new aesthetic. Maybe forgo that oversized corner sofa in favor of classic wooden benches? Dress them up with throw pillows and cushions for a unique look. You could also try sack furniture like beanbags instead of the classic armchair and sofa combo. It gives a much more relaxed feel to the room and they're also far easier to move around if you want to create more space in the room for any reason.
⎆
Consider Thrift Store Furniture
Buying used pre-owned furniture is the easiest way to save money because you can get good quality stuff for a reduced price. But, you've got to be careful in your search because it's easy getting caught into a similar trap here.
Always check the tags on the pre-owned furniture to see the original maker. If somebody is offering second-hand IKEA furniture, you might as well not bother. That's usually on the lower end of pricing new anyway. However, if it's a luxury sofa from an expensive shop that you could never usually afford, you should consider it. You'll know it's made well, and it will stand the test of time.
⎆
Quality of Over Quantity
When searching for thrift furniture, you'll want to assess any marks or dings on it. Normal wear and tear isn't usually a deal-breaker. However, if there looks like there is more serious structural damage, it's likely to worsen pretty quickly, rendering your new furniture useless soon. When you're checking it over, avoid anything that's made from chipboard or particleboard. The plastic covering will peel away after a couple of months, and not only will it look somewhat tacky, they're also likely to break easily. Always look for solid wooden furniture. It can be restored to its former glory down the road.
Next, look for any wear and tear that the furniture may have. The odd mark here and there isn't an issue, and you'll definitely be making a compromise for the price. However, if there is serious structural damage, it's likely going to get worse quickly. That will render it unusable in the next year or two. Basically, avoid things that appear to have more than minor dings and scratches. When you're checking it over, avoid anything that's made from chipboard or particleboard. The plastic covering will peel away after a couple of months, and it will be cheap and tacky. Always look for furniture that's made from solid wood, it'll last longer and you can restore it if you need to.
Look out for nails as well. If a piece of wooden furniture is put together with nails instead of proper joints, it's a sign of poor quality. Normal upholstery nails may be used for benches or chairs, but anything more should send red flags.
⎆
Find Your Fixer Upper
If you buy a great statement piece that's a little run down, it's a great opportunity to restore the furniture. Anything that's wooden can easily be sanded and refinished. Scratches and marks are fine, but any small holes in the wood signify woodworm. If there are just a few small holes, you're in the clear, but if there are more, it's often better to steer clear, as it affects the solidity of the wood. Regardless, any damage or woodworm should be pointed out to the seller. You can use it to try to negotiate a lower price, which brings us to our final used furniture tip.
When thrifting a piece to fix it up, always haggle on the price. Chances are, they want rid of it and they're willing to take a reduced price for it. If you don't ask you won't get any reductions so it's always worth a shot to see if you can get it cheaper. Either that or see if they've got anything else they can throw in for the same price.
⎆
Find Great Sales (and Freebies)
This seems too good to be true, but you can find good quality furniture for free if you know where to look. There are websites where people offer up free stuff (including furniture) they don't want. You'll have to check often to find the best stuff, but you can find some real gems on there for absolutely nothing.
And, if these options don't work, with a bit of clever timing, you can try your hand at sales. Most stores release new furniture lines twice a year in February and August. That means in the weeks leading up to those new releases, they're trying to get rid of all of that old stuff to make room for the new lines. If you go in January or July you're likely to find some drastic reductions on all of the stuff that they haven't sold yet. Better yet, try a going-out-of-business sale for bottom-dollar finds.
When in doubt, don't forget to talk to friends and family who've either moved or bought new furniture recently. They might have some stuff lying around that they're willing to give you for free, or at least for a very cheap price.
If you're looking for office furniture, the rules are slightly different. During the back-to-school sales at the end of the summer holidays, you'll find cheaper options. Another great time to look is right after tax day in April.
Finally, if a company has gone out of business, they'll need to shift all of their remaining stock as quickly as possible. They do this so they can afford to remain on the premises while offloading inventory. So, make sure to look out for closing sales in your area.
⎆
DIY Statement Pieces
By far the cheapest way to furnish your house is to make it yourself. Paying for the cost of materials and tools is going to be far cheaper than buying the furniture itself, but you'll want to be ready for the work involved. You can find lots of easy DIY home ideas that are geared towards novices.
Pallet furniture is a popular design trend at the moment and you've probably seen it in all sorts of bars and restaurants everywhere, but it works great in the home as well. There are plenty of online tutorials to help you and the best thing is, you can usually find old pallet crates for free so it'll cost you next to nothing to do.
⎆
Furnish Your Home the Right Way
The bottom line is simple. Before you make any decisions on furniture, ask yourself where it's going to go. If you're struggling to think of a place to put it, the chances are you don't really need it. If it's a larger piece of furniture, it will need to work with your current furniture and layout. As such, you'll need to plan, so you'll have an idea going in. Plus, it will ultimately set the tone of the entire room so don't rush into any decisions.
Having your dream home is the goal of so many, but it often seems out of reach. However, furnishing your home doesn't have to be expensive. Look for the corners to cut along the way to make things easier – and more fun.
Images Courtesy of Canva.
Other Posts You Might Enjoy:
Minimalist Kitchen Designed on a Budget
How to do a Bathroom Renovation Without Spending Your Entire Budget
Budget-Friendly, Minimalist Bedroom Ideas
Decorating Your Dining Room on a Budget
https://digthisdesign.net/wp-content/uploads/2017/11/6-Tips-to-Stay-on-Budget-Buy-Great-Furniture.jpg
1080
1080
Melissa Moore
http://development.digthisdesign.net/wp-content/uploads/2016/11/OLD_DigThisDesign_logo.jpg
Melissa Moore
2017-11-29 09:02:43
2021-01-16 12:34:10
Furniture for Your Home: Tips to Stay on Budget