It's summer, and this is the time of year when we start thinking about making changes to our homes. For many, that's going to mean big, expensive overhauls with budgets that are unfriendly to bank accounts. But do you have to do this? There are ways you can give your home a brand new look with budget design solutions that work. You'll be glad to know there are lots of little ways to make your home look wonderful. We can help you out with some of these possibilities.
Budget Design Solutions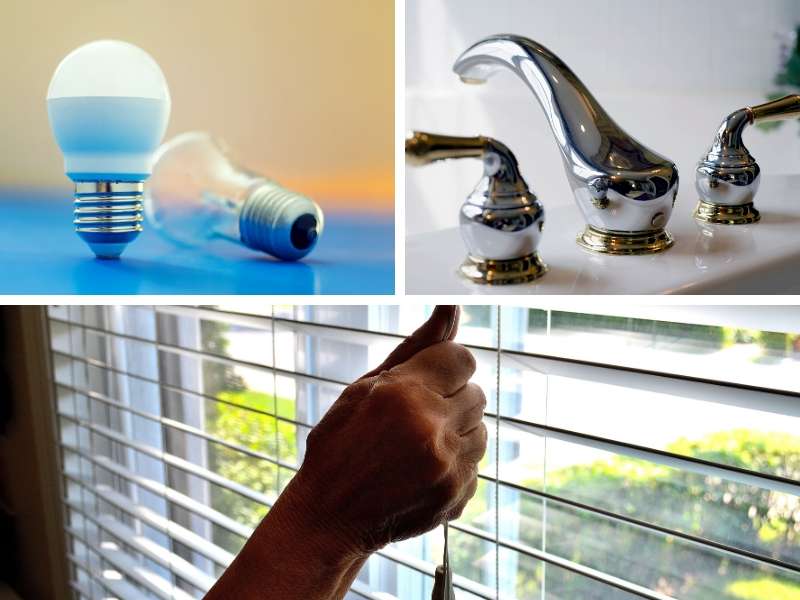 Updating Light Fixtures
Light fixtures are a great and easy way to give your home a much-needed face-lift. Decorative lighting fixtures visually add to the style of any room but, you might also want to consider the recessed lighting in the room. You won't need to replace the whole fixture just the discolored trim and the out of date light bulb. By changing the light bulb to a more efficient LED can save you money in the long run.
Decorative Hardware and Decorative Plumbing Fixtures
Instead of completely remodeling your kitchen or bathroom, consider changing out a few decorative features in the rooms instead. As most anyone knows the kitchen and the bathrooms are the most expensive rooms to remodel. By strategically replacing some decorative elements you might not need to remodel at all and that will save your budget. As a kitchen and bath designer, I know how important the hardware selection is to the overall look of the room. If you select new hardware with an updated style and finish your old kitchen or bathroom could sparkle once again. After all, the hardware is the jewelry to the cabinets. Furthermore, crusty old faucets can really be a downer to how these two rooms appear. Try, changing out your old faucets for new and improved models. I recommend spending a little more money on these items as they need to be good quality to hold up to the amount of use they get. Sometimes spending more money up front is a budget design solution.
Window Treatments
Windows are a focal point to any room and you want to make sure the right window treatment is paired with them. In some cases, the window will not need a window treatment due to the direction it faces and the view you see out of it. I recently was hired to update a home and the first thing I noticed is that every window had heavy drapes which distracted from the beautiful view. The view was facing their private outdoor pool space and was landscaped beautifully for privacy. I removed the drapes to frame the window in fabric curtain panels, brought the outside inside and it was magnificent. Some windows need privacy at certain times like a bedroom but, you also might want to be able to open up to a view when privacy isn't needed. I would recommend a custom solar shade for this purpose that can be raised completely without impeding the view. There are many options for window treatments and I recommend hiring a professional for an hour consult to discuss all of your options. This will be money well spent knowing you will not make a mistake and the results will make a big statement to each and every room.
Accessories
Accessories are the key to adding warmth and personality to any room. You want to be careful when accessorizing to not over do it because then the space can become cluttered looking and that's not good. Decorating with accessories is an opportunity to create a little interest that takes it out of the box. I hate things to be so matchy, matchy, it's not believable. You want to soften your style with a little vintage perhaps, like a classic coat stand for instance. Even taking a classic piece and adding a twist to it like a bold brightly painted color creates interest to the room design.
Budget design solutions are simply a clever way to refresh your homes look. If you have any you might want to share, just leave a comment, I would love to hear from you.
Images Courtesy of Canva.
Other posts you might enjoy:
Living Room Design – 5 Common Mistakes To Avoid
Every Room Needs An Anchor Piece
Bohemian Room Design – 4 Easy Tips
Before & After: Making The Most Out of A Narrow Family Room Design
Share This Story, Choose Your Platform!