I was so elated to find out that I had been selected as one of 15 designers to participate in the #StyleMyFaucet campaign. A review of the Beale pull-down designer kitchen faucet by American Standard.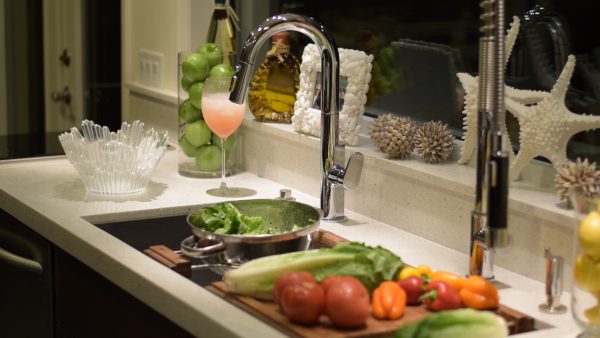 As many of you know, I entertain a bunch and I need a functional faucet that allows me to perform my preparation and clean up duties with ease. Being an interior designer and certified kitchen and bath designer who uses her home as her showroom, it needs to look good too. My current faucet just wasn't cutting it in my busy kitchen so this was and opportunity for me to upgrade to hopefully a better faucet.
A Review of The Beale Kitchen Faucet by American Standard
What I Need in a Designer Kitchen Faucet
I like to test products in order to find ones that I feel are the best fit for my clients. The faucet I wanted to replace just wasn't cutting it. When I first installed it, it looked great, but after much wear and tear the finish didn't hold up, it had lost its luster. I expect a designer faucet to stay shiny and pretty. I also didn't like that the pull-down spray didn't stay docked and kind of hung loose looking like it was broken. Needless to say, that product didn't cut the mustard in my kitchen. My checklist for the perfect designer kitchen faucet is as follows:
Durable Finish
Functional
Smart technology
Pull-out Spray
A Docking Station that actually docks
Putting The Beale Designer Kitchen Faucet to the Test
When I am reviewing a product I like to actually use it as I would in everyday life. For my test of the Beale faucet, I decided to make a salad that would involve a lot of rinsing of fruits and vegetables. As I inventoried what my new faucet could do I was immediately taken by its Selectronic touchless faucet system. Hidden by a sliding sensor door you have the option of selecting a hands-free mode or a touchless mode. I have used other touchless systems and sometimes find them annoying because they come on and off when I don't want them to, but American Standard innovative design solved that problem.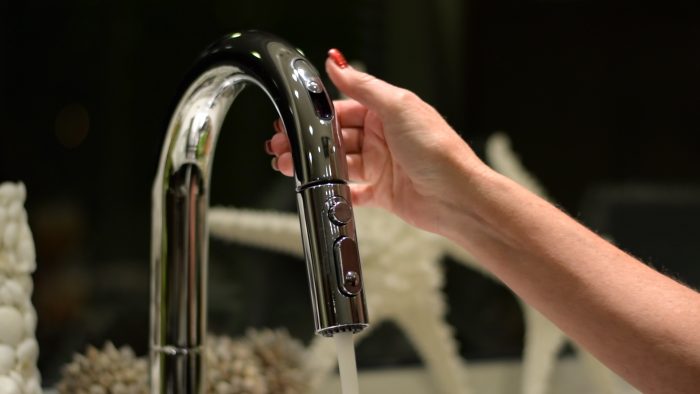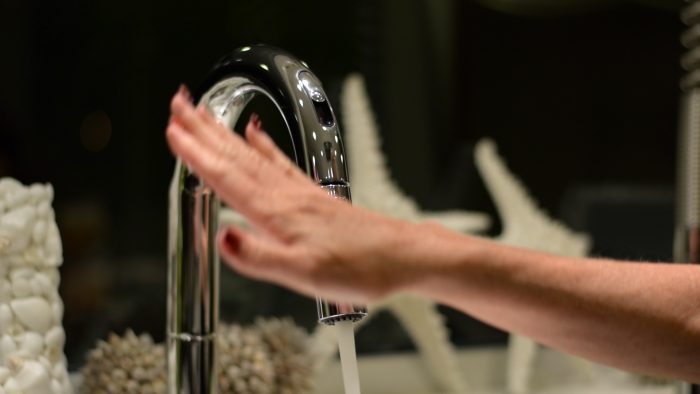 Once I got comfortable with my touchless system I moved on to the pull-down spray function. American Standard, once again, thought of everything by designing it with two task-driven spray patterns. The spray function worked great for washing my lettuce and when I was finished with that task I was able to press a button to stop the flow of water as I passed over my colander avoiding spraying myself with water. I made a mental note that this would be great when you have a double bowl sink too.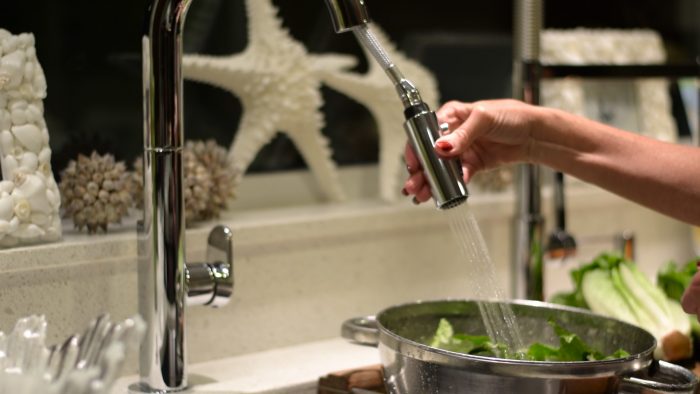 It was so nice to be able to dock my pull-out faucet head securely into the Dock-Tite system designed to firmly hold it in place. The docking system and the Re-Trax retraction system work together to provide a perfect outcome. No more dangly faucet head which makes me crazy!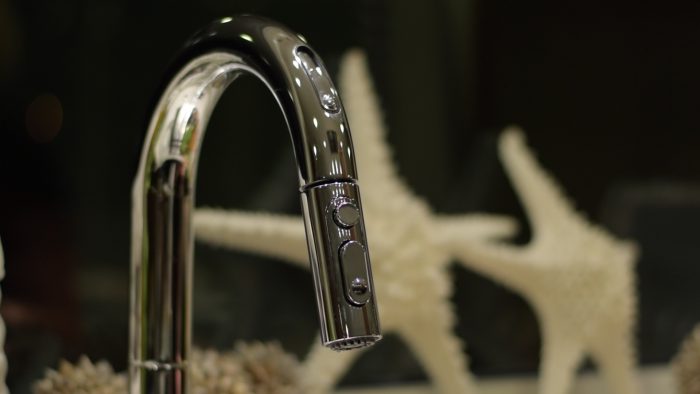 The Final Score
I must say I am truly impressed with the new Beale designer faucet by American Standard. Not only is it aesthetically beautiful, I know it can stand up to the wear and tear it will receive in a busy entertaining kitchen. Now that I have personally tested this product I will definitely be recommending it to my clients!
The post was made possible by American Standard which sent me the product in order to give an unbiased opinion. All opinions are 100% mine and 100% positive!
#sponsored
Images courtesy of: Patricia Davis Brown Designs, LLC.
Share This Story, Choose Your Platform!