When all the right components come together, living spaces can be transformed into show-room-quality designs.  Learn how Chicago Interior Designer & TV Design Consultant, Erica Lugbill balances textures and textiles to create these beautifully designed living spaces.
Functional Family Rooms with Flair
This family room features a diverse mix of fabrics, patterns, and materials to create a globally inspired, eclectic space.  The deep midnight blue accent color on the ikat drapery is carried over to the hand-painted wooden plaques above the fireplace. The whole look is grounded with a large oriental rug and a classic-lined sofa. Accent furniture consisting of a unique hammered bronze metal coffee table, modern orange chair, and classic wing-back chair complete the look.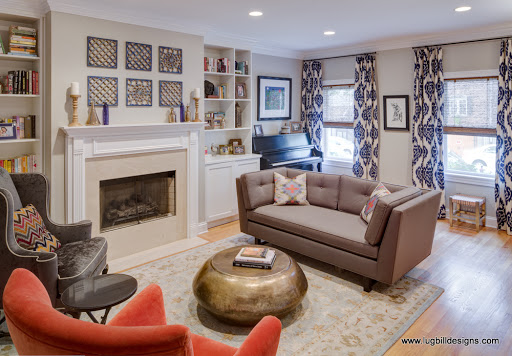 This wingback chair is an old family heirloom that was re-invented. By staining the legs a deep espresso brown, using a charcoal velvet fabric, and light cording, the chair was made relevant again. The classic lines of the chair combined with a piece of modern street art behind it,  create an unexpected, eclectic look.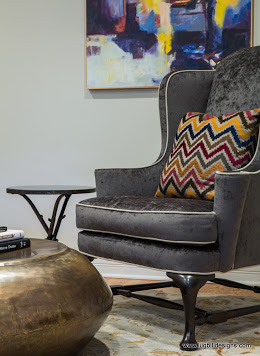 Elegant simplicity describes this high rise unit. A custom cornice board and drapery panels ,frame and soften the room. Subtle metallic accents and reflective surfaces are the perfect finishing touch.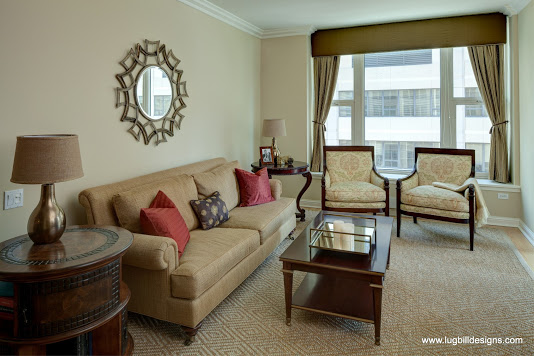 You Might Also Like...