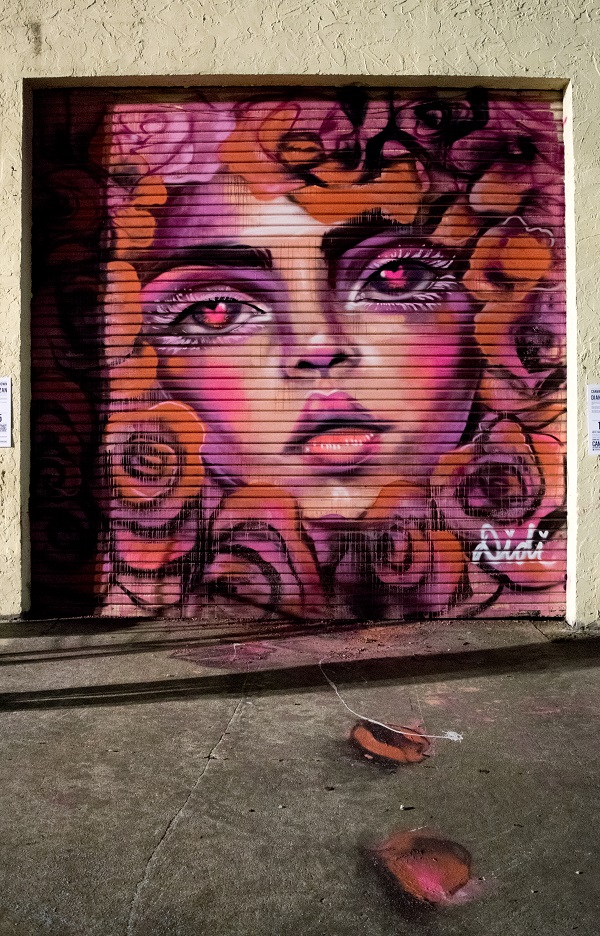 West Palm Beach is on a mission to bring beauty, art, and identity to the town with the CANVAS Outdoor Museum Show. We're excited about the 20+ artists leaving their mark all over West Palm with murals and sculpture. Earlier this month, seven local artists got together with Arthouse 429 gallery to create murals to compete for a spot on the official 2016 CANVAS line up for West Palm Beach.
Eddie Mendieta
West Palm Beach has been home to Eduardo Mendieta for the past 20 years. For Canvas Local Showdown, Eddie has chosen to express his love for classic cars. Across the street from this event at Arthouse 429, you can check out another of his classic car paintings.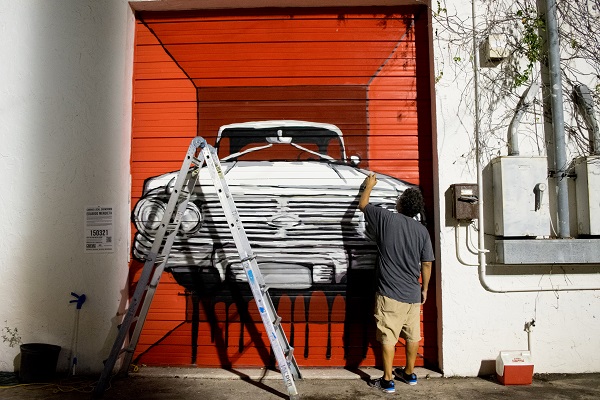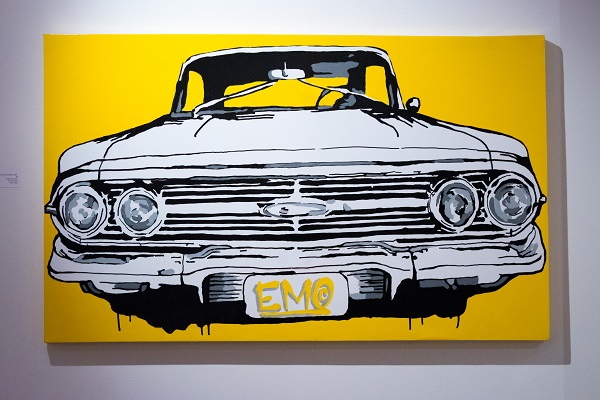 We got a chance to chat with Eddie Mendieta, in this video interview he shares how he first got interested in art, what inspires him and some of his current projects and collaborations. To check out  more of Eduardo's work you can follow him on Instagram @em_c
Diana Contreras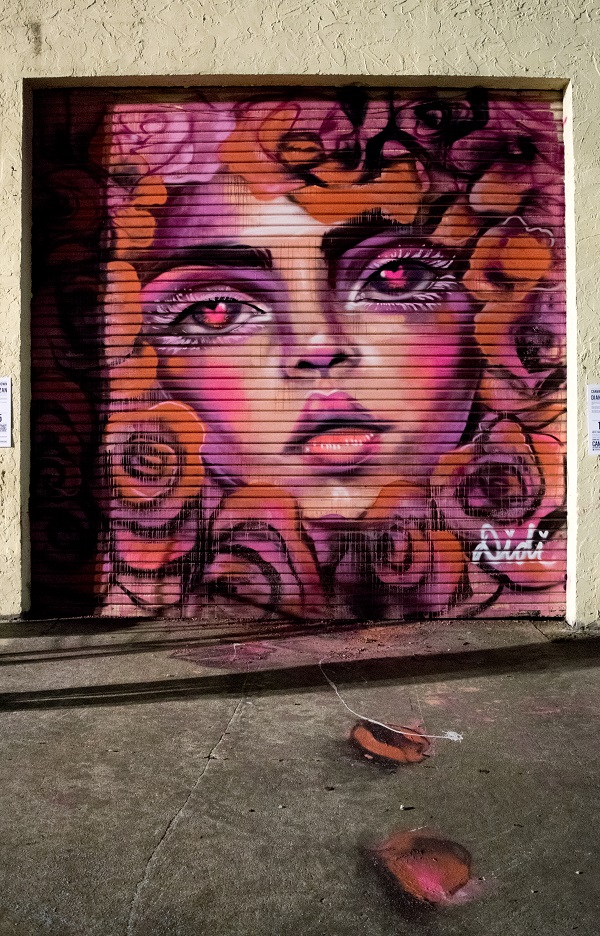 Diana's work in progress for Canvas Local Showdown
Diana Contreras, who is originally from Peru, grew up in Miami. Inspirations from her origins come through in her art where her spectacular use of color. To anyone who's been to Miami, it's clear that color is part of the city's dominating vibes. Traditionally, native people of the Andes wear very bright colors in their clothing and accessories to make it easier to spot each other while navigating through the mountains.
The subjects prevalent in Diana's art are women, she portrays a lot of diversity with them. To her, it's like having dolls, she's always enjoyed playing with dolls and now she gets to make her own. She tries to use as many colors as possible in any one of her paintings or murals. It's not an easy task making so many hues work together, but Diana sees the challenge as a game.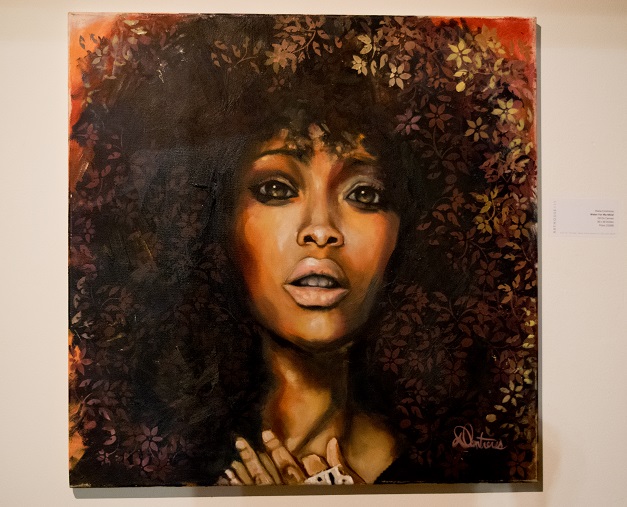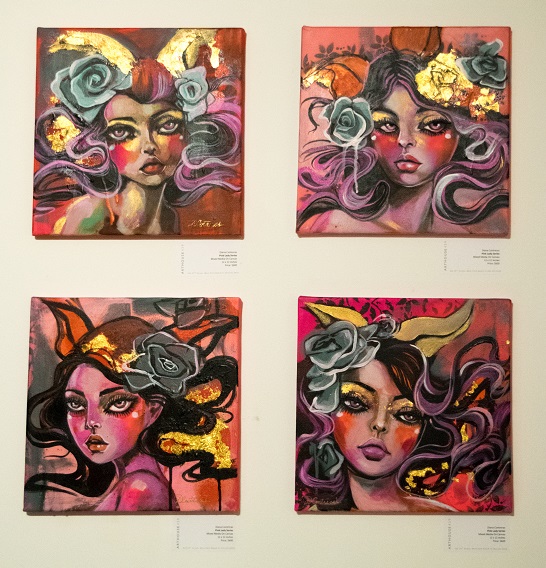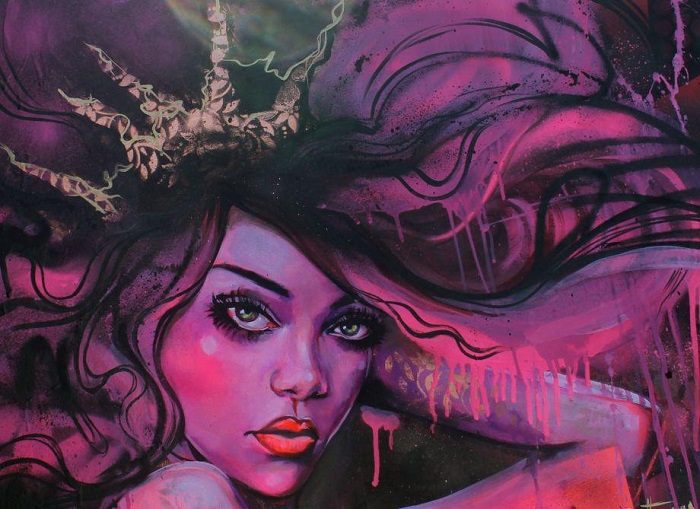 Last year, Diana was commissioned by Rihanna's brother for a portrait of the singer. It's just a thought, but there seems to be a coincidence in Diana's pink haired portrait and the pop star's pink hair some time afterward. Diana has some exciting projects ahead. She will be collaborating with an up and coming beauty brand for a mural on 2nd Ave in Wynwood. You can catch her at Art Basel where she will be working on a piggy bank for Pabst Blue Ribbon's Overdrawn event on December 4th. Follow her on Instagram @didirock
Amanda Valdes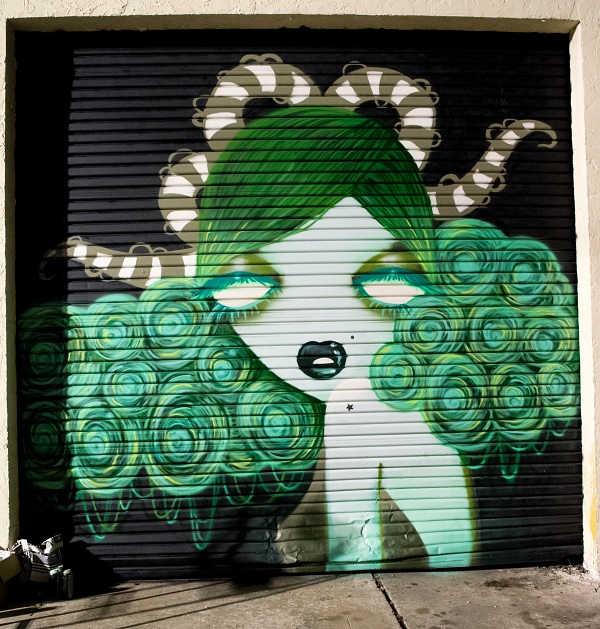 Amanda's entry for Canvas Local Showdown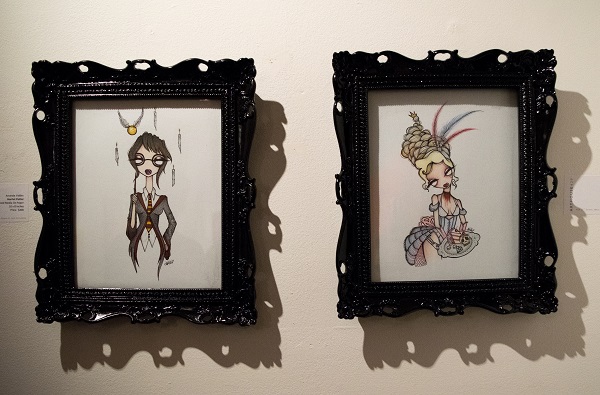 "Harriet Potter" and "Marie Antoinette"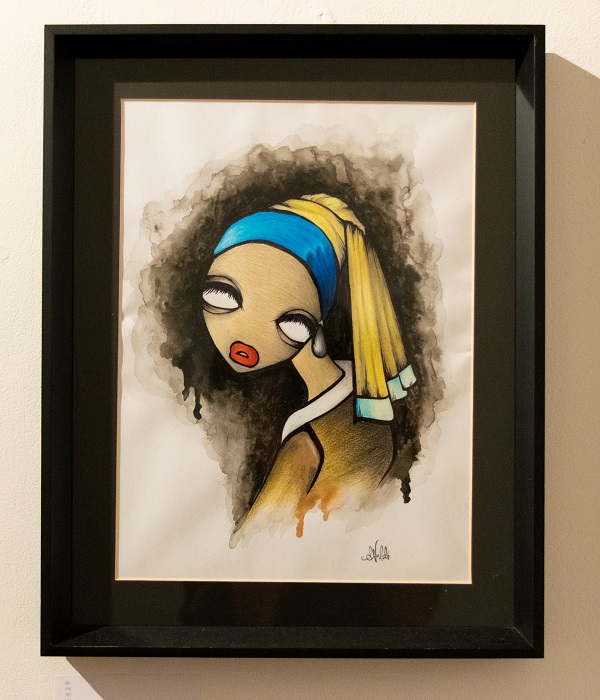 "Girl With a Pearl Earring"
Also a Miami native, Amanda's work shows off great use of bold color with contemporary and traditional culture references. Much like Diana, the main subjects of Amanda's work are women, which she also calls "dolls". The bits and pieces she takes from life come from pop culture, historical figures, allegories, and the state of current society all end up as representations on her dolls. She uses this bright facade to obscure some darker tones and meaning in her art. At first sugar-pop colors draw the viewer in, but once you're hooked you might begin to understand the darker undertones and back meaning. Congratulations to Amanda for winning Canvas Local Showdown! For more on her work, check out her Instagram feed @amandalvaldes
Photography by Patricia Davis Brown Designs, LLC.